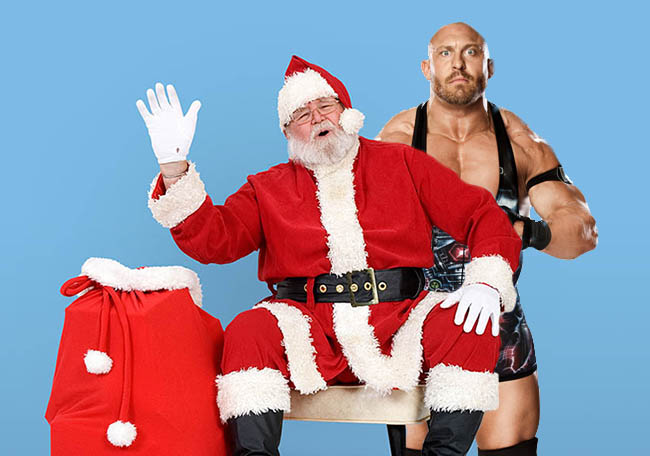 Las Vegas, NV – WWE Superstar Ryback celebrated Christmas this year with a night out on the town in his home city of Las Vegas, Nevada.
The Big Guy, as he is affectionately known by everyone who isn't CM Punk, began his night with a light lunch at Bacchanal Buffet. With his custom-made feedbag in hand, Ryback walked down the 25,000-square foot room picking out his favorite foods. Ryback found a darkly lit corner of the buffet and strapped the feedbag to his face, glaring at anyone walking within his general vicinity.
After gorging on mac n' cheese, prime rib, curly fries, red velvet pancakes, jumbo shrimp, french onion soup, fettuccine alfredo, loaded baked potatoes, bean burritos, General Tso's chicken, and Diet Cherry Coke, Ryback lumbered down the Las Vegas strip, shouting Christmas carols. One unlucky tourist from Finland suffered 3 cracked ribs after Ryback embraced him in a fit of blind holiday cheer.
Famished from manhandling strangers and shouting "White Christmas" at the top of his lungs, Ryback went to Casa Di Amore where he ate 4 pounds of chicken picata, three loafs of garlic bread, and a gallon of red wine. Satiated, Ryback then enjoyed "Mystere" by Cirque Du Soliel, audibly "ooh-ing" and "ahh-ing" with the crowd.
After a night of wonder and whimsy, Ryback decided to give back to the community. In the spirit of the holiday season, Ryback went to the local YMCA and handed out bottles of Strawberries 'N crème Muscle Milk and Met-Rx Big 100 Colossal Protein Bars to needy children. "Finish it!" barked Ryback to the scared children.
The highlight of Ryback's night, though, came when he was walking back down the strip and saw an older man with a white beard.
"Santy!" screamed Ryback. "It's me! Ryback! I've been such a good boy this year! I need to give you my list of presents!"
The man, later identified by EMTs as 68 year-old Chester Fopp of Cody, Wyoming, suffered several injuries to his lower body after Ryback sat in his lap and recited his wish list.