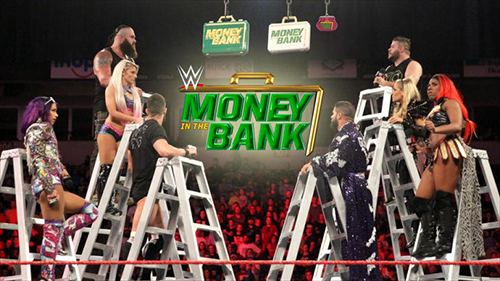 San Diego, CA – At a locker room meeting with the wrestlers from 205 Live, WWE CEO Vince McMahon announced that they would be participating in their own Money In The Bank Ladder match.
The locker room buzzed with excitement, the possibilities of incredible high spots and daring aerial moves flying through their heads. The Luchadores huddled together immediately while Gentleman Jack Gallagher lovingly embraced his umbrella, William III.
"We wouldn't want you little fellas feeling left out now would we?" asked McMahon rhetorically while slapping Noam Dar on the back.
"That's right boys," said Triple H. "You'll be fighting for the whole kid's-size enchilada. This is your chance to win a contract for a Cruiserweight title match at any time. All you have to do is climb the ladder and grab this!"
Triple H reached in to his pocket and removed a tiny coin purse.
"What is that?" asked a squinting Tony Nese.
"It's a coin purse!" said McMahon proudly. "Perfect for when you need to buy penny candy, ride a trolley, or buy a newspaper."
The cruiserweights looked at each other in confusion.
"New-spay-per?" asked Lio Rush trying to understand what McMahon was talking about.
"Look, it's the same thing as the briefcase, just, yknow, you-sized," said Triple H making a short motion with his hand.
"Plus we get to make all sorts of 'coin purse' jokes for the entire year," said McMahon. "Like 'Oh! Gran Metalik just got his in the coin purse!' or 'Ariya Davari is dipping his coin purse directly in Kalisto's mouth!'" laughed McMahon uproariously.
"This is a great opportunity for all of you," said Triple H. "This is your chance to shine and show the WWE Universe what 205 Live is all about!"
"On the WWE app," said McMahon under his breath.