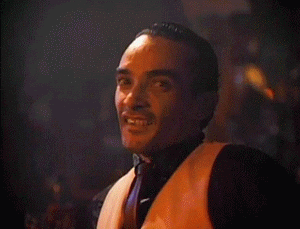 Stamford, CT – Following a several month absence from WWE television, Alex Riley returned at tonight's Smackdown tapings, defeating Zack Ryder via pinfall. However, the old happy go lucky Riley was gone, replaced by a heel few fans recognized.
Unless they watched a lot of MTV in the 1980's, in which case they'd readily recognize his new persona: that of the evil pimp from Pat Benatar's "Love is a Battlefield" video.
We were able to catch Riley in a dark night club following the show, where he simply said: "I am young. Heartache to heartache, I stand…no promises, no demands."
When asked for further comment, he sneered, then matted his now greasy hair to his head and stated: "I am strong. No one can tell me I'm wrong. Searching my heart for so long…"
Sadly, before he could continue, he was scared off by a spiky haired, somewhat waifish looking prostitute shaking her flat chest at him in a violent manner.