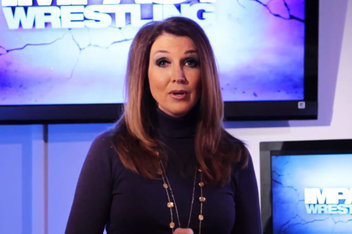 Grand Rapids, MI – 27-year-old Sean Brethern was only fifteen when World Championship Wrestling went out of business, but he remembers it fondly.
Now, the cart-retriever at Sam's Club is hoping the same thing happens to Total Nonstop Action.
"I have no idea why, but the idea of wrestlers losing their jobs excites my groin in ways that are hard to describe," Brethern said during his fifteen minute break. "The idea of hard-workers like Christopher Daniels, Kazarian, and Gail Kim being forced to toil for irreputable indies for a fraction of what TNA paid them brings me this perverse joy."
Brethern was one of many WWE (then WWF) fans who rallied lemming-like being the Stamford giant as WCW crumbled before its ultimate sale to Vince McMahon. But the mere sale of the company wasn't enough to satiate Brethern's glee.
"I loved watching WCW make mistakes, and I used to post "RIP WCW" on message boards and newsgroups back in the day. When it was over, and guys like Elix Skipper, Jason Jett, Dustin Rhodes, and others wound up in the indies, especially after Vince cut em, I was so happy, I could sing.
"I mean, why root for a company to die if you're not going to piss on the ashes afterward? Only a moron wishes for a wrestling promotion to go out of business, and then feels bad for those who are out of work. You gotta be consistent with your thought process, and mock the unemployed. Not long after the Invasion, WWE cut Jerry Lynn loose. Brought me joy to laugh at Lynn when he did some indy shot here. That'll teach him to wish for many spots for many hard workers."
But what happens if TNA dies, and WWE invariably takes in talented workers like Kurt Angle, AJ Styles, Bully Ray, and Bobby Roode?
"Just like with the Lynn thing, they gotta cut guys. I'll still be cheering for WWE, and be all "WOOOO! WWE RULES!" while Zack Ryder, Justin Gabriel, Tyson Kidd, and Antonio Cesaro are booking indy dates without a solid #2 promotion to go to. I feel comfortable saying that this is the best outlook to have. Hurry up and die, TNA!"