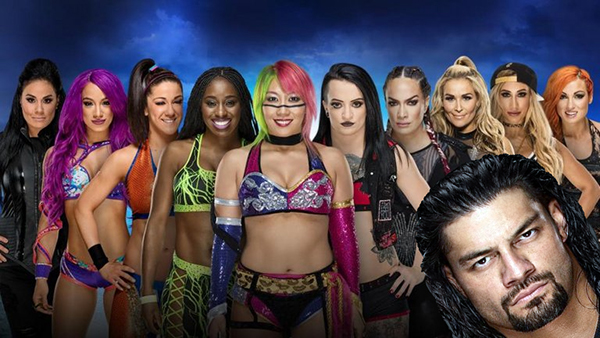 Philadelphia, PA – In a shocking and bewildering turn of events, WWE Superstar Roman Reigns has become the first winner of the Women's Royal Rumble.
Defying all the odds and universally-accepted rules, the former WWE World Heavyweight Champion captured glory despite not competing in the match and, despite the suggestions of many fans, not being a woman.
The women's Rumble saw exciting action and unexpected returns that set the internet abuzz. As Asuka kicked Nikki Bella off the apron for the final elimination, many in the WWE Universe began speculating about who she would choose to face for her Wrestlemania matchup. Those hopes were dashed as Stephanie McMahon, who had been at ringside doing commentary, pie-faced both Asuka and the ever-pointing Ronda Rousey and made her way to the back with a camera crew in tow.
Undeterred by the "Men Only" sign, Stephanie barged through the locker room door, sending many Superstars scrambling for cover. She marched straight over to Reigns, who was still recovering from losing the men's Royal Rumble match.
"Tough break, Big Dog," said Stephanie, slapping his back. "We know you had your heart set on winning the Rumble, but we've got something better for you. You have been so wonderful and so talented this past year, that I have decided to award you the winner of the Women's Royal Rumble!"
"Stephanie, I'm already having a hard-enough time connecting with the fans. These Philly fans would murder their own mother just so they can tell me I suck. I can't accept this," protest Reigns.
"You can and you will," said her father, Vince McMahon, who emerged from the shadows.
"I can and I will," sighed Reigns. "Wait, how long have you been standing there?"
"No time to worry about that now! We've got to get you on all the morning talk shows!" said McMahon, kissing Reigns's already-moistened hair. "You're the best women's Royal Rumble winner this company has ever seen! So handsome! Such a good father! We're going to ride this all the way to Wrestlemania and beyond, leaving all the losers in the dust!"
McMahon then snapped Heath Slater with a wet towel, his laughter echoing throughout the arena.