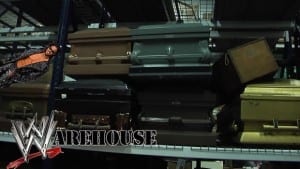 Greenwich, CT – During a routine inventory check of past WWE memorabilia, WWE Archivist Ben Brown discovered former WWE Superstar John Morrison's missing charisma.
"It was just like any other day in the warehouse," said Brown. "I had just finished cataloging Saba Simba's headresses and spears and was about to move on to the urinal that Tommy Dreamer once drank out of when I heard a soft, high-pitched voice. When I listened closely, the voice said 'I am the guru of greatness!'
"The sound came from over by the Undertaker's coffins. I started to dig around and then I saw it: the physical embodiment of John Morrison's charisma. We thought we had lost that thing forever. Heck, some people didn't even think it existed. Like it was a myth. This is pro wrestling's version of Keyser Soze."
Some within WWE believed that the former ECW champion had the look and the skills to become a top star, but was a "black hole of charisma" when it came to promos and speaking on the microphone.
"Honestly, I didn't even know he could speak," said Vince McMahon. "I thought he was a deaf/mute with washboard abs that could grate cheese. Plus his hair was so soft and silky. And that guy really looked good in fuzzy boots. What I'm trying to say is that he is a gorgeous human being, but I'm surprised he was able to form words and sentences."
"It's truly an incredible find," said Brown. "We'll going to carefully examine it, clean it, and catalog it. Then I guess we'll toss it in a drawer or something. Maybe use it to prop open doors when we have to load in important stuff."