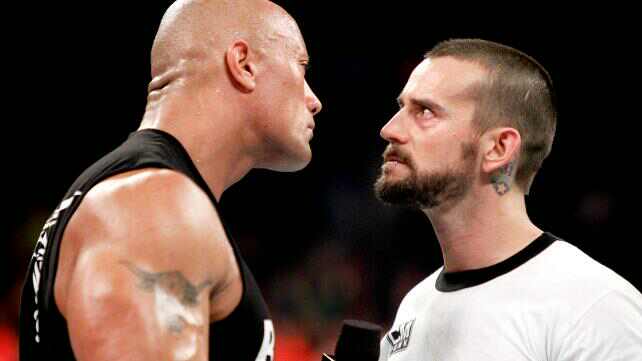 -Live from Houston, TX
Big Show Confronts Alberto Del Rio
Show first interrupts Vince to complain about the events of Smackdown, and this leads to ADR and Ricardo coming out. Del Rio offers him a rematch tonight, but Show declines, since he's 'not ready'. Ricardo gets all cutesy and throws a bucket of Mexican flag confetti on Show, and the duo drive him from the ring. Not the most auspicious of openings, but a match is signed for the Rumble between the two.
0 for 1
Match 1: Wade Barrett def. Randy Orton via Bullhammer (non title)
That's right, Orton jobbed, and get this: he jobbed clean. Makes you wonder if there was a surprise piss test that morning or something. Maybe Orton volunteered to lose clean in exchange for not being tested? In any event, this was every match you've seen between these two. Except Barrett won. Cleanly.
1 for 2
Match 2: Kane def. Damien Sandow via Chokeslam
This stemmed from the Rhodes Scholars provoking Team Hell No during the final phase of their anger management sessions. Kane finished Sandow rather handily.
1 for 3
Hall of Fame: Mick Foley
The selection anyone with WiFi over the past week already knew, that Foley's the head of the class for 2013. The Shield disrupts the promo, and they find themselves attacked by Ryback, Sheamus, and Orton. Ryback wants to be fed The Shield. Gotta like a man on a mission.
2 for 4
Match 3: Kaitlyn def. Eve Torres via Spear (won WWE Divas Championship)
My goodness, this was the best Divas match on Raw since Lita/Trish in 2004. I'm serious. The two milked the crowd with near falls and non-stop action, and it makes me actually sad that Eve's leaving. If Kaitlyn had better competition (Beth, Eve, Melina, etc), she could have a healthy reign. A feud with her and AJ seems likely. But yes, track this match down if ya missed it.
3 for 5
Match 4: CM Punk def. Brodus Clay via Anaconda Vice (non title)
Just a shortie to establish that Punk can dominate larger foes handily. Clay may have foreshadowed a heel turn in his pre-match promo, downplaying Punk's claim that he's better than dancing with kids, only to lose via submission. Decent little match in any event.
4 for 6
Match 5: Heath Slater wins an over-the-top-rope challenge over Sheamus, Drew McIntyre, and Jinder Mahal
A fluke win where Sheamus beat up the 3MB afterward. Next.
4 for 7
MizTV with Ric Flair
Miz and Flair destroy clothing and beat up Antonio Cesaro when he points out that Flair is a quadravorcee with no money. RD thinks they dug up Lt. Frank Drebin to play Flair tonight.
4 for 8
Match 6: Daniel Bryan def. Cody Rhodes via No Lock
Lasted about 1:15. A waste.
4 for 9
Match 7: John Cena def. Dolph Ziggler via Attitude Adjustment (steel cage match)
This may have been the best Raw match since Ziggler faced Punk in late 2011 for the WWE Title. The second half of the match was full of crazy moves (Dolph's leaping DDT off the top, Cena kicking the door in Dolph's face), and a ton of false finishes. If I were the type who puts stock in smarky ratings (and I sometimes am), I'd go ****1/4 easily. Just a hate-filled match that flowed beautifully. The divided crowd was fully behind Cena by the end, and that's a testament to how much he busted his ass. Dolph? He was Dolph, and the result was magnificent.
5 for 10
The Rock Concert
The only good part was Rock turning a serenade for Vickie into a witty bit about her ugliness. It could have bombed, but his timing made it work. He also coined "Twinkie Tits" for Heyman, so there's that. He and Punk had a pull-apart at the end, which seemed like an off-note to end on.
6 for 11
Overall, more good than bad, but a bit disappointing. I mean, I'm glad they didn't use the nostalgia crutch all night long, but I'd have appreciated a little more of the old school.
(Follow Justin on Twitter!)