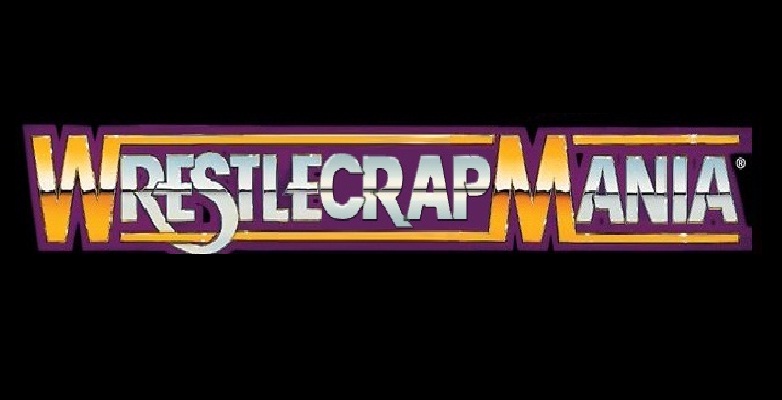 The clock is ticking, as WrestleCrapMania finally draws near! The Showcase of the Slighty-Better-Than-Mortals will commence Sunday afternoon, March 30, at 4 PM EST/1 PM Pacific time!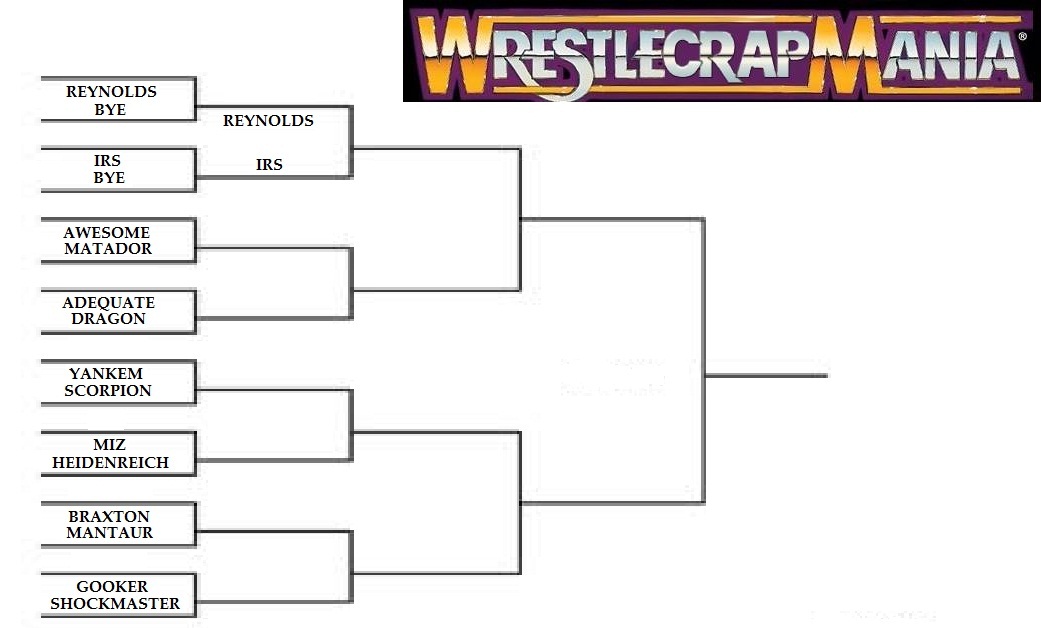 Highlighting WrestleCrapMania, the tournament to determine the very first WrestleCrap World Heavyweight Champion! Fourteen of the top stars in all of WrestleCrap compete until only one man remains, he to be crowned the undisputed WrestleCrap World Heavyweight Champion!
Twelve superstars complete in the first round, with a number of intriguing matchups. Going down the brackets, the mighty Mike Awesome, managed by Bobby "The Brain" Heenan, goes one on one with the wily El Matador! The competent techniques of "Mr. Adequate" Curtis Axel will be put to the test against the fire-breathing Dragon!
Dr. Isaac Yankem, DDS, looks to extract a victory against the mysterious Black Scorpion! Self-proclaimed must-see superstar The Miz battles the most irascible of the Schyster Family, Heidenreich! "The Pink Assassin" Blade Braxton battles the Schyster Family's muscle, 400 lbs of Mantaur! Meanwhile, the festive Gobbledy Gooker has his own mountain to climb in the mammoth Shockmaster!
Both Real Deal Reynolds and Irwin R. Schyster have received a bye into the quarterfinals, by ruling of President Jack Tunney. They will square off not only in competition for the gold, but to perhaps settle the grudge that has been destroying WrestleCrap for several months!
In non-tournament action, The Mexicools will make their first defense of the WrestleCrap World Tag Team Championship against the team they cost the titles, making reference to Los Matadores! In addition, "The Million Loonie Man" Sean Carless goes one on one with Super Eric, who is in no way impressed with Carless' avarice!
In a handicap match, The Twin Towers with join up with "The Doctor of Style" Slick to take on "The Ugandan Giant" Kamala and Saba Simba! Also, just added to WrestleCrapMania, Gregg Maffews has agreed to go one on one with an opponent of Michael Cole's choosing, perhaps one to not be named until the afternoon of WrestleCrapMania!
Rounding out this impressive card, a 20 man, over-the-top rope battle royal, featuring El Gigante, The Stalker, The Godwinns, Jimmy Wang Yang, Duke "The Dumpster" Droese, Max Moon, "The Portuguese Man O'War" Aldo Montoya, The Dynamic Dudes, The Real Man's Man, Bastion Booger, David Arquette, Oklahoma, Santina Marella, The Johnsons, The Artist, Pacman Jones, and The Red Rooster!
You don't want to miss out on the biggest wrestling showcase to ever be assembled. Be a part of WrestleCrapMania, Sunday afternoon, March 30, exclusively on pay-per-view!