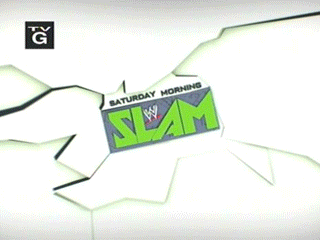 "Good morning, WWE Universe!  Welcome to Saturday Morning Slam.  In our opening contest, Jey Uso will be taking on Darren Young."
Really, that's how this show started.  Even the announcer didn't sound excited about this show.  Gotta admit, that's kinda a far cry from the last few weeks where we've been promised CHANGES and NEW ERAS and all the jazz, so it's not like I can say I blame him or anything.
The Prime Time Players head down to the ring, playing to the crowd, and doing their little dance.  And they are wearing new gear, showcasing WWE's ability to somehow merge a whistle and a hair pick.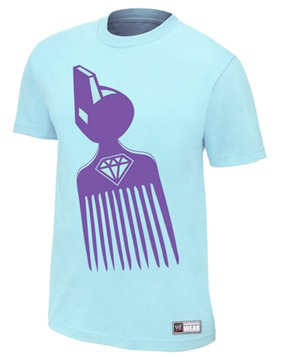 Just as I was pondering if I'd ever seen a more obscurely absurd piece of apparel, we get a spin of the Saturday Morning Slam Commentary Wheel of Misfortune and get..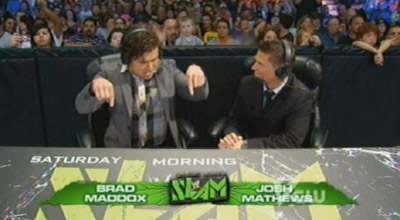 Why?
Why does WWE hate me so much for doing this report?
I mean, you'd think they'd want to be nice to us, cater to us in some small way.  Like not putting the worst commentator in wrestling history on here and making me record the stupidity for generations to come.  Vince, throw me a bone here – we likely get more views for our Saturday Morning Slam reports than anyone else on the web.  At the rate we're going, we'll likely grow to triple digits by year end!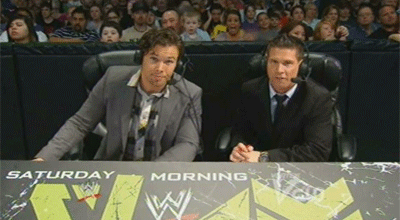 So yeah, never ever ever ever again do this.
Backstage we go where we learn this match was made earlier this morning due to a confrontation between the Prime Time Players and The Usos.  Said confrontation saw The Usos attempting to teach Saturday Morning Slam GM (Garanimal Model) Mick Foley how to dance, which led to the Players attempting to teach Mick how to dance, which led to Mick using the hair pick as he looked into space thoughtfully.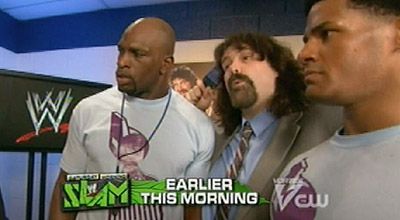 Or maybe it was wistfully. 
I always get those two confused.

The Diver, you say.
The…Diver…
Guessing you mean The DEEVER, my little pet name for the lovely Layla El who always mispronounces "Diva".  Yeah, I don't think that Mick could quite keep up with her.  But I too would not object to her being on SMS every week.
To the matter at hand, as you'd expect, Mick wants to book a match with Young vs. Jey RIGHT NOW.  Sadly, this cannot take place, explains Titus, because the pair are going to a fish fry.
A FISH FRY!!!!!!!!!!!!
Why are we getting this match instead of footage of that?!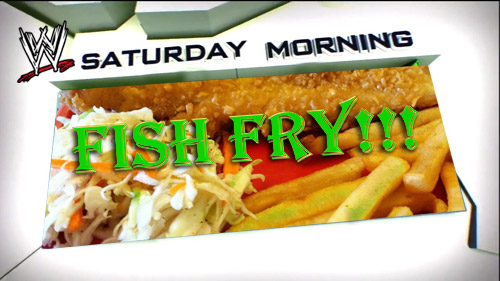 "WWE Saturday Morning Fish Fry" has millions written all over it.
Or not.
But I could totally see shows like this making the air if that goofy network of theirs ever launches.  And I guarantee it would be better than this.
Unless it has The Mad Ox doing commentary, of course.  For instance, this morning Josh tells us that this match could be a challenge for both men since they are used to competing in tag team matches.  Maddox responds by stating this match could be a challenge for both men since they are used to competing in tag team matches. 
That's not a typo.  Dude literally repeated what Josh said, almost verbatim.
We get about two minutes of stalling and other non-action before Young sits on the apron and pouts.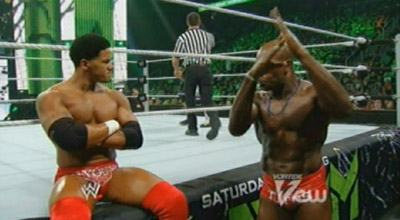 Why?  No idea.  Maybe he could hear Maddox's commentary and decided to show his displeasure as well.
This leads us to commercial, and when we get back Young makes the age old mistake of ramming a Samoan's head into the turnbuckle, which is met with the age old response of doing a horrible dance.  
Remember when Sika and Afa used to do that?  Yeah, I don't either.
Which is too bad, really.  I remember Harley Race shucking and jiving with Akeem once, and it was grand.
A bit more back & forth action follows, and finally Jey takes charge, heading to the top rope.  Titus comes over, and gently, and I mean GENTLY, taps him on the arm, which causing the ref to call for a disqualification.
Yes, a DISQUALIFICATION on Saturday Morning Slam.  🙄
Sorry, sorry, I know I promised last week I wouldn't use emoticons, but the roll your eyes one was staring me in the face.
Of course this leads Mick to come out and book them in a tag team match instead, which causes Jey to do the worst dance I've seen in…well…three minutes.  Because that's when he did this:
If this entire show consists of nothing but Usos and Prime Time Players I am NOT going to be very pleased.
And I can't imagine Titus will be pleased either – now he's going to miss that Fish Fry for sure.
The new match starts, and we get some dull as dishwater 'action', the highlight of which is Titus getting caught in a sunset flip, which he escapes in a most unique way – he literally just walks away. 
Ok, gotta admit, I've been following wrestling for over 25 years, and have NEVER seen that.  I can't decide if it's clever or just dumb.  The fact that I can't decide makes me think it probably must be dumb.
Back on commentary, Brad notes that the Usos are identical twins.  "Kinda like ghosts!" he says.  
Josh (clearly annoyed): "Um, they're nothing like ghosts."  
Brad: "Just like ghosts.  Identical ghosts."
At this point Josh just kinda gives up.  I'm right there with you, kid.
In the ring, Young rolls outside to avoid a kick.  He then proceeds to run away and trips over the ring steps in what I believe was a planned spot.  
Unlike earlier, I CAN decide if that's clever or dumb.  Care to guess which it was?  Unless you're catering to Sean Stasiak's old CLUMSY GUY gimmick, I don't know what that was supposed to accomplish.
To commercial we go (yes, again) and upon our return we have Mick Foley with a Don't Try This in which we see exactly ZERO of his moves, wrestling, dance, or otherwise.  I am praying that next week we get a Darren Young Don't Try This wherein the entire 30 seconds are just that animated GIF above playing over and over and over.
Talk turns to Josh asking if Brad is scouting the men he in the ring.  He says that of course he is, and then notes that Titus "puts the dominant in dominant."  No earthly idea what that could even mean.  Don't want to know.  Don't care if he's really an idiot or just pretending to be an idiot.  Don't know, don't care.  Just don't want him on this show any more.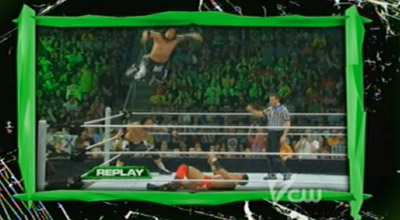 Big splash by the Usos finish it.  So they go 2-0 this week, first time they've won back to back matches since, well, ever I gotta think.
Horrendously bad show this week.  Funny how when Maddox is on here, that happens.  Oh, and for those playing the Official WrestleCrap.com SMS Drinking Game, wherein you take a swig whenever Josh says 'On Saturday Morning Slam"…

So THAT's how you guys all made it through this week.
Rest assured, the next time I see Maddox on here, the skim milk is going back in the fridge, and the Captain (Morgan, that is, not Mike) will set sail!