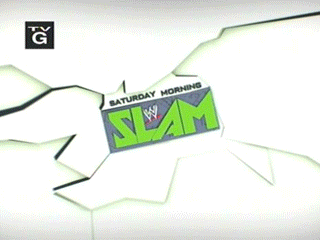 After a few iffy weeks, last week's Saturday Morning Slam, wherein Mick Foley was presented as the new General Manager, was one of the best eps in months. Will this week follow that pattern?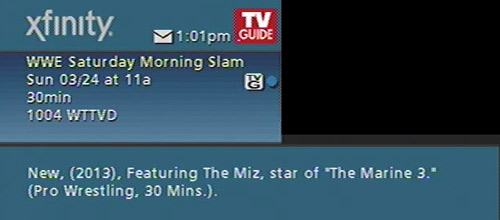 Let's just say the preview on my DVR isn't filling me with hope.
Our opening contest is brought to us by "the coolest boss in WWE today" (which is pretty much not even an arguable point), and it's going to be a handicap match featuring The Great Khali taking on Primo and Epico. The narrator tells us, in great detail, what a handicap match is, noting that while the Colons have the numbers game, Khali is "enormously strong." What a fascinating contest this should be.
A quick spin of the SMS Commentator Wheel of Misfortune™ and we land on…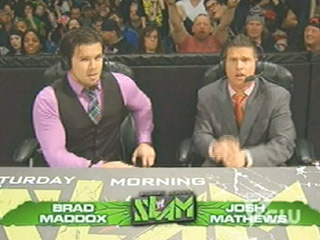 …The Mad Ox himself, Brad Maddox. I feel as horrified as Josh looks. Yeesh. Miz AND Maddox on the same show. Feels like payback for last week being so good.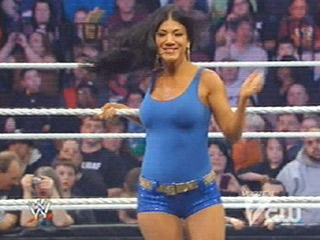 On the plus side, Rosa's Clearly Not G-Rated Shorts have returned. Another plus is Natalya (thankfully not farting) has escorted Khali to the ring. Maybe uh that will uh help distract us uh from uh Maddox's uh hor-uhhhh-ble commentary. This kid has been atrocious any time they put a mic on him, so why would they continue to do this?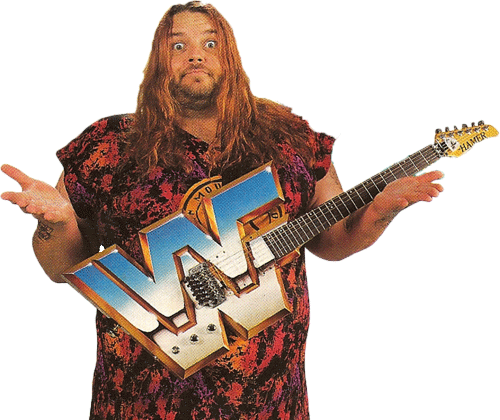 Yeah, I don't know either, dude. Nice to see you back, and in high res, no less.
So the match is pretty much exactly as you think it would be, with the poor Colons trying everything in their power to make it watchable.
Personally, I especially like their attempts to make Khali look faster than themselves. That's dedication to your craft right there. Meanwhile, Maddox babbles on about how he's been good friends with Mick Foley since 1998 when Mick was "much younger or older" than he was. Don't blame me, that's what the man said. Oh, and also, the show will now be called Saturday Mid-Afternoon Slam. Josh, who you can tell is just getting more and more annoyed, basically just says, "No, it won't be" then moves on. The match ends with Khali sitting on Epico, which somehow causes the poor guy to go cross-eyed.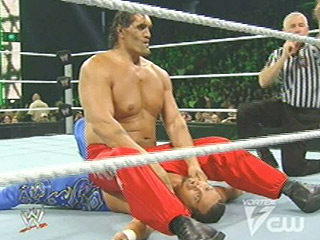 Epico, once more the star of the show.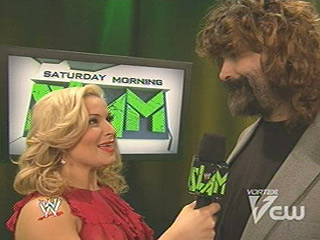 Following a commercial in which kids shoot spackle at each other (which I hope is a toy and not just kids randomly spraying bathroom grout in each other's eyes), Garanimal-Wearin' Mick Foley appears to discuss how he'd seen pictures of Natalya interacting with children in foreign lands and that it was beautiful. He said this with a straight face believe it or not. He is interrupted by Damien Sandow. Foley and Sandow together sounds like comedy gold. Well, I hate to disappoint you but…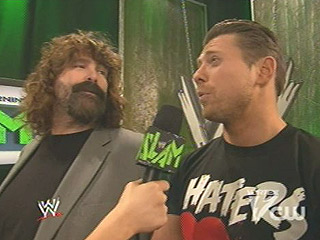 Yeah. So they're going to have a match. But not before we get a Saturday Morning Spotlight telling us how popular the guy is, how he's the new Ric Flair, and how he's perfecting the Figure Four Leglock. Usually hearing such nonsense would have my head explode, but I am so mesmerized by this…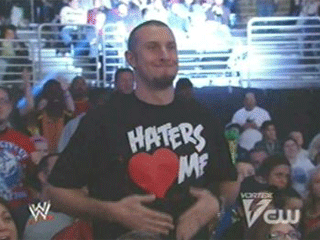 …that I cannot concentrate on anything else. Your eyes do not deceive you – that's a grown man wearing a Miz shirt while rhythmically rubbing his stomach.
They felt compelled to air this on a show targeting children for some reason.
So we get back from our Dutch Oven break (appropriate that ad made a return this week, as this show truly stinks so far), and Damien Sandow is here to tell us to never try what he does at home. If he really wanted to make this a "public service announcement" as he claimed, you know what he would tell us to not try at home?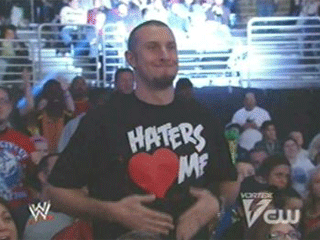 Yeah.
So the two have a ten minute match that is devoid of anything worthy of even bothering to video capture. In fact, the only thing of note is that at one point, the commentary goes completely silent…while we see Maddox moving his mouth at ringside.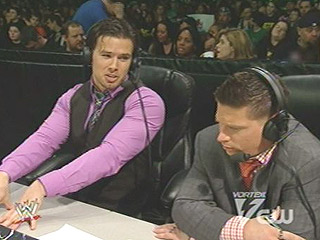 What on earth could he have botched so bad that it got edited off this show is something probably best left unearthed. Regardless, Miz wins with the world's worst figure four.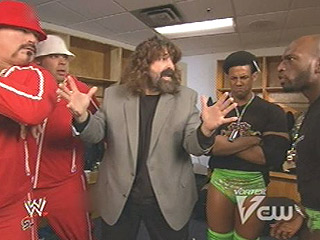 Backstage, we get a horrendous showdown between Brodus & Sweet T and the Prime Time Players. We can only pray that we get a dance off next week between these two. Oh, and that this move is banned: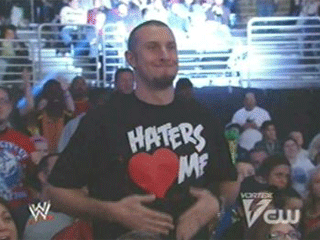 Truly, amazingly awful show this week. Here's hoping it gets back on track in seven days.