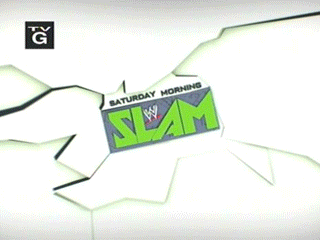 Good morning, WrestleCrap Universe!  Welcome to another exciting, mind-blowing edition of Saturday Morning Slam!
Now mind you, I don't quite believe that, but reciting the SMS Narrator's opening is an easy way to start the column, so that's what you get.  Oh, and he said "WWE", not "WrestleCrap".  I'll expect more from him next week.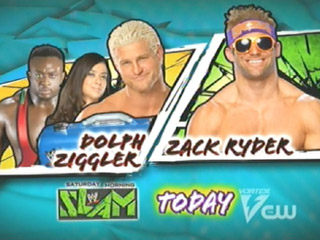 Our opening contest looks to be the payoff from the end of last week's show, as Dolph Ziggler will be taking on Zack Ryder.  This started when Zack being interviewed by Natalya, who he called a 'broskette', making her sound like something you'd pour lighter fluid on and then roast s'mores over.  Anyhoo, he was talking about how last year at this time, he was the US champ and the guy he beat for that title was Ziggler.  He then said AJ was "crazy", and there you go.  Simple build to what should likely be a fun match.
A spin of the SMS Commentator Wheel of Misfortune and we get…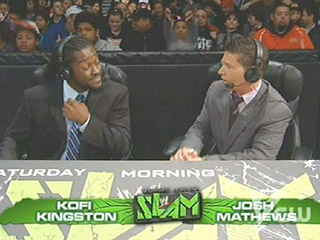 KOFI KINGSTON this week with Josh Matthews.  I'd mock this selection, but I have a soft spot in my heart for Kofi, as I think he's vastly underutilized by the company; anyone remember that one week where they let him be a killer and he destroyed Randy Orton's car?  He was totally believable doing that.  Pretty much the next week he was just back to being the boom boom guy.  Too bad.
OH!  And I also like him because I met him once at a BW3 (sadly not run by Tatanka).  I asked him what he favorite sauce was there, and he said, "Caribbean jerk" and I said, "Cool, can you sign your name by that?"  Yes, these are the kinds of conversations I have with famous people when I meet them.  "I promise I won't call you the Caribbean Jerk to my friends."  Kofi laughed and said, "That's what we call Carlito."
Good times.  Oh, I should also note he looks quite dapper in that suit.  He should wear a suit in all backstage segments, just to stand out from everyone else.  Because as you all know, standing out from others is what the company preaches that talent needs to do to get noticed.  Which is, of course, exactly what Zack Ryder did, amassing a huge internet following, which has got him…well, continued employment.  And a horrendous theme song that he somehow has gotten over as well.  Will it help him get a win today, on the only show where he might possibly be able to get a win?  Let's find out.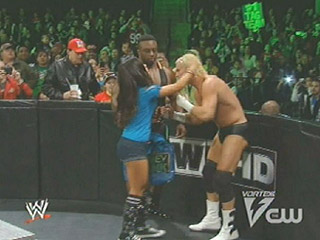 Early exchange has Zack with the upper hand, and Ziggler bailing, nearly running into Kofi, then running to AJ to help fix his hair.  I'm glad he's going to AJ for advice for that, because I remember the one time when he went to Vickie to help with his hair and he came back looking like this: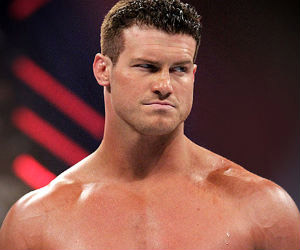 Never knew Vickie had a Bart Gunn fetish.  Glad for his career that only lasted a couple of weeks.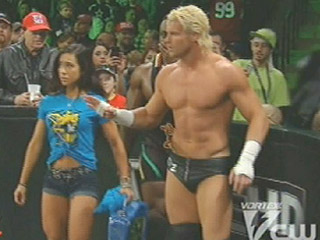 Oh, and another question…Ziggler's trunks…are they the first in history with a zipper on them?  I mean, take out folks wearing jeans or whatever.  And can he use that as a foreign object?  Getting hit with a piece of cold rolled steel would be bad enough; having your eyes raked with a dude's zipper would be downright lethal I bet.
Back in the ring, Zack remains in control as Kofi suggests that perhaps "Zack Ryder is a Fighter" would make for a good shirt.  I was going to say, "Um, no", but then I checked out wweshop.com and saw his current shirt just has "SSSSSIIIICCCKKKK!!!!" on it.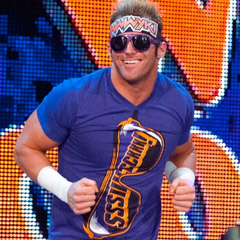 On first glance, I honestly thought it said "SSSSSUUUUUCCCCCKKKK!!"  So yeah, that may be a better idea.
To commercial and back we go, returning to Dolph with our "Don't Try This At Home".  I always kinda question heels doing these, thinking specifically back to Miz last week and how if I was a kid, I'd do the opposite of whatever this jerk was telling me.  Then I remembered that Miz was a good guy.  Which is incredible, as Dolph came off so much more likable here.
Back in the ring, Ziggler takes over following Zack necking himself on the top rope as Kofi talks about how he and Dolph have had "about 999 matches".  As repetitive as this company is, I completely believe that number.  Ziggler gets Zack down on the mat, then proceeds to use his body as a foot holster for his sit ups in a great heel move.

Sadly, the boys don't follow it up with a quick roll up.  I mean, come on, it was right there, guys.  A rather fascinating discussion follows as Kofi explains to us that "Boom Boom Boom and Woo Woo Woo, they sound similar, but they are different." They also talk about how Zack got himself over using the internet, got all these followers, to which Josh replies, "Yeah, but you have to follow that up with victories."
Never thought I'd say this, but Josh should be in the booking meetings.  Maybe leading them.

Zack gets a small comeback, but misses the Broski Boot, allowing Ziggler to get the Zig Zag Random Camera Shot to AJ's Face for the win.  Have to say I was expecting more goofiness from these two, but still a good match.
To commercial we go and time for an apology from RD Reynolds.  Every week when I watch this show live, I do so with 'live' play by play commentary on Facebook, which you can join in on by being one of my pals.  Last week, we were watching commercials and this one came on for Lite Brix.  Following this, my buddy Andrew Weaver posted…


…which I totally can't believe I didn't steal.  But I have now, so yeah, thanks, Andrew!

Back to the show, we get a spotlight with Wade Barrett.  He explains that where he comes from, the "grim realities of life smack you in the face."  And apparently leave you doused in grease.  Seriously, the dude is so oiled up that I think he must have just finished a shift at Jiffy Lube.  It's Saturday morning, I really don't want to see that.
His opponent today is Yoshi Tatsu, who amazingly doesn't get the same Orient Express music that I believe the company has used for every guy from "the far east" (say that like Finkel) since 1988.

So for those who say this company is still living in the dark ages, there's your proof that they are, in fact, evolving.  Yoshi's music sounds like something out of a Super Mario game, so they're to at least 1993 or so!
Yoshi gets the advantage early as the announcers discuss who has the harder kicks, Tatsu or Kofi.  Kingston sides with Tatsu, explaining that he has a bamboo tree in his backyard that he kicks constantly.  While I was picturing various koalas falling out of said tree, Josh asks a very valid question: "Wouldn't it make more sense for him to kick a punching bag than a tree?"
This Josh Matthews, he's winning me over.
Oh, and Kofi?  He talks about how this would be a great win for Yoshi…this MORNING.
MORNING!
So yeah, he's way way way better than Booker already.

Oh, and back in the ring, Wade picks up the win with the Black Hole Slam.

Cute.  You do realize that Wade WON, though, right?
Well, two good matches, so a good show.  Hope they ramp up the wacky factor next week.
Anyone got Michael McGillicutty's phone number?