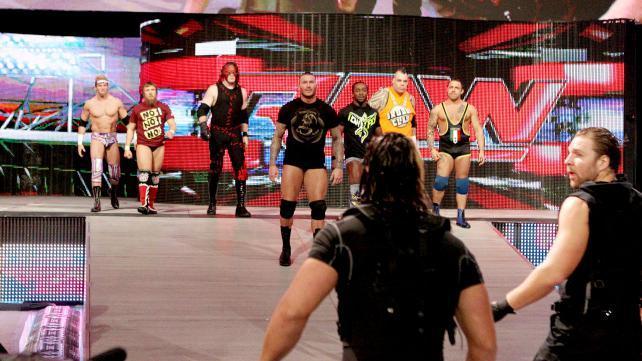 Let's try and keep the chatter going on the WrestleCrap FB group (522 followers and counting, double AWA's TV audience in 1990!) by clicking here and interjecting the witty comments on the proceedings. Much like RD's Saturday Morning Slam reviews, the best ones will be inserted within this running journal!
Check back at 8 PM EST for live coverage of WWE Raw!
8:01: I love how the voiceover guy knows what's going to happen on Raw, yet they're always booking matches in the opening talk segments. If you're going to over-serialize Raw, why not just replace the opening signature with the entire roster turning around to smile at the camera, a la Beverly Hills 90210?
8:03: Paul Heyman says that his last night on Raw is tonight. Sounds kinda dubious, given that he's a heel with a penchant for lying, but we can play along. Love that the crowd cheers when he says he's leaving, and then cheers just as loud when he name-drops ECW. At least they're livelier than the Atlanta fans last week. Those in attendance a week ago make the finest in medical school cadavers.
8:06: Heyman: "Something REALLY BAD is going to happen here." S–t, they're bringing Khali Karaoke back.
8:08: "The one thing I WON'T MISS on Monday nights, is the WWE Universe!" – Paul Heyman or Jeremy Piven?
8:10: Heyman says goodbye, and here comes Catholic Malignment Punk, looking rather disconsolate.
8:12: "In the land of the McMahons, perception is reality." If that's the case, Vince isn't hearing those cheers for Punk guaranteeing victory on Sunday.
8:15: Punk and Heyman hug it out. Crisis averted.
8:19: The reason WWE topped NBA and NHL in social activity last week: nobody was making fun of the NBA or NHL.
8:21: Khali and Mark Henry is one I don't foresee going long. Hard to believe Henry and Natalya are both dungeon products. Well, Hart trainees, anyway.
8:22: World's Strongest Slam finishes another awkward Khali outing. Seriously, can we get a talented and congenial wrestler from India to replace Khali? I know Vince likes to have someone from each country if he can help it, just to boost his international profile, but please: someone that doesn't look so pained with every movement.
8:24: Mark Henry drops Hornswoggle with the World's Strongest Slam, thus kicking off a very promising face turn.
8:27: How come Finlay runs out to break up a Rock-Punk brawl, but won't run in to save his son from being splattered?
8:30: Booker and Long are here to preside over a show they have no control over, and Jericho wants to qualify for the Chamber. Team WCW 1996 chats it out, and Booker tells Long's whispered idea that it sucks. Tag team match? We get Jericho and Bryan, so no complaint.
8:32: Random Jericho freakout moment. I can complain about THAT, though.
8:34: Vince yells at Heyman via speakerphone, which must bring back floods of memories for our favorite schyster. Heyman wants Rock to lose the title if he's DQed or counted out. Wait, why's Vickie mad at Heyman? Didn't he defend her honor 2 straight weeks?
8:35: Daniel Bryan vs. Chris Jericho. The Snarkometer light has been turned off until further notice.
8:40: Other than Lawler ripping on Bryan's beard, no complaints.
8:43: Ohh, Jericho wipes out on his attempt at a corner-spring attack, and Bryan follows with a crazy dive through the ropes as we hit commercial.
8:48: Lotta oohs and ahhs, and Bryan tries a corner leap, but Jericho catches a Walls attempt, and both men exchange reversals and counters.
8:49: Diving headbutt gets 2 for Bryan. Jericho gets the Walls in mid-ring, and Bryan rolls out, getting the Yes/No/Maybe So Lock, and Jericho reverses into another Walls attempt, which Bryan escapes. Buzzsaw kick gets 2 for Bryan, and the crowd is wildly behind Bryan.
8:51: Codebreaker out of nowhere gets the win for Jericho. 2 great matches in 2 weeks for Jericho, and his reward to help Bryan keep Orton from bogging down the Chamber with too many chinlocks. Team spirit!
8:58: That wasn't the entire locker room blocking Shield's exit, Lawler. If it was, WWE would be running the Team Challenge Series.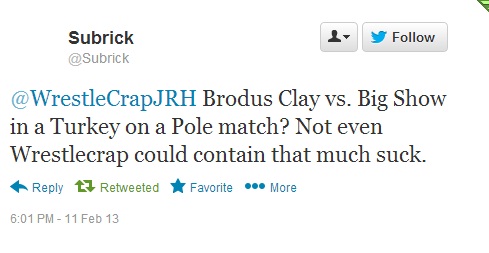 8:59: 3MB vs. The Dudes with Attitudes. I like corn with my squash.
9:02: Slater to Ryback: "NEXUS OR AGAINST US! REMEMBER THAT GOOD S–T?!?!"And hey, what's sadder: the distance between the once sort-of-aligned Sheamus/McIntyre duo, or the fact that Drew has a better gimmick?
9:04: The three faces all hit their finishers at once, which would have froze WWE 13 on 6-man mode. Cena pins Mahal with the AA.

9:07: The faces cut a cumulative angry-good-guy promo, which works better than the usual Cena/Sheamus drivel. Let's hope this direction continues. I won't hold my breath….
9:09: Alex Riley and Yoshi Tatsu speak ill of Big Show, and die as a result. DATS DE JOKE.
9:14: The Big Suit is here to, potentially, be embarrassed in "oh those darn kids" fashion once more. And Matt Striker gets KOed after getting 5 words out. Big Show's trying to one-up Mark Henry in the "turn face by obliterating an irritating WWE employee" contest.
9:16: Show's such a Jericho ripoff. First he starts wearing suits, and now he's refusing to speak.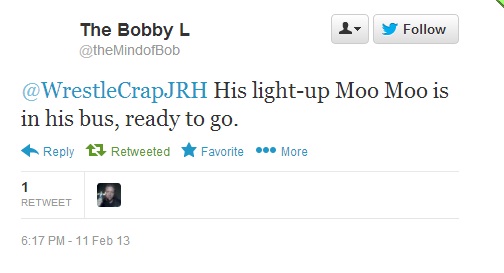 9:20: Rewatching the Bruno HOF package, I gotta say: JJ Dillon deserves an award, just for looking the same now as he did in 1983.
9:25: WWE acknowledges Zack Ryder's Hoeski video. THANK WRESTLECRAP!
9:26: DIRTY DUTCH MANTELL. He looks shell-shocked from having to make sense of Russo's TNA writing. Why he's here, I have no idea. Why did tag ropes go away for a while? LIFE IS FULL OF MYSTERIES.
9:29: Gutwrench Powerbomb and Patriot Act finish for Swag Busey. This whole thing is David Lynch-random.
9:31: I have to say, we haven't had a good racist promo in a long time. And by "good", I mean…..uhhh, I got nothing. This can only end badly.
9:32: Dutch Mantell is a disturbed Vietnam vet? He needs to go full Walter Sobchak. "STRIKER, YOU'RE OUT OF YOUR ELEMENT"
9:33: AJ washes the stench off of Crazy Dutch's racist vitriol by merely showing up, and Booker books Ziggler against Kane for a Chamber spot.
9:35: Dutch can get you a toe by 3 PM. With nail polish. F–king amateurs.
9:36: Miz and Cody is next, but who cares? I'm having too much fun with Dutch. DUTCH MANTELL DOESN'T ROLL ON THE SHABBOS. SHOMER SHABBOS.
9:38: We live in a world where Biff Tannen and Walter Sobchak have joined forces. I may never bash WWE again. I'm serious.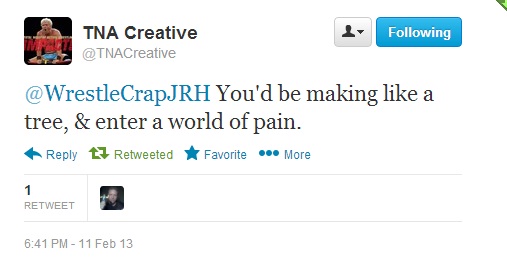 9:41: Cesaro's here to class up the broadcast as Miz hopes to avoid injuring another reliable worker. "Goldust" chant is very telling, since the fans would rather taunt Cody with that, as opposed to "LET'S GO MIZ". Just saying.
9:44: Cesaro interjects to cause the DQ, and he giant swings Miz into the barricade repeatedly, because he's trying to better America. He's off to a good start. Next up: getting Portlandia cancelled.
9:47: Hey kids, here's your reading incentive: make it through Chyna's auto-bio without losing your idealism for humanity.
9:49: Jericho = The Dude. Dutch = Walter. Bryan = Donnie. Cesaro/Regal/Barrett = Autobahn. Kevin Dunn = Brandt. Kaitlyn = Maude.
9:50: Naturally Disastrous Dancing vs. Colon Blow in the federally-mandated midcard awareness program challenge.
9:53: *sad Homer voice* that was fast. Eh well, gets Naomi dancing quicker.
9:54: Yep, Naomi's getting a push. Good; she's more coordinated and skilled than I would have guessed.
9:59: The Shield have arrived, complete with their PlayStation 2-era Smackdown menu music.
10:02: Rollins to Cena: "You fail when you get up every day, and exist!" Hence the sign on his bedroom wall: "FIRST PANTS, THEN SHOES"
10:05: And here's the faces, to jump Shield with the lights out. Times like this I miss having Jesse Ventura on commentary, because the logic that Cole or whoever would need to counter his valid claims would be fascinating. That said, I'd like Sheamus and Ryback more if they donned face paint and cut crazed, 1980s style promos. We need a face painted duo again.
10:10: Punk/Heyman recap. Odd note: Heyman almost quit in the same city of the network that abandoned ECW for WWE, Nashville.
10:14: Damien Sandow rails against country music, just because he doesn't want me to cheat on him with Cesaro and Ambrose. Don't worry, Damien. I have enough love to go around.
10:17: Nashville chanted "Si". Progress. Then Sandow is nearly murdered by Del Rio's low superkick for 2.
10:18: Cross Armbreaker finishes. *sigh* You have Curt Hawkins and David Otunga for this. Let them die at Del Rio's hands. The hazards of too much TV time.
10:20: CM Punk says "belt". Del Rio says "promo". They're just trolling Vince at this point. Which wrestler will drop "backstage"?
10:21: Speaking of backstage, Bo Dallas just jumped Wade Barrett. Surprised he didn't use that teleprompter as a weapon.
10:26: The people who called Fandango gay last week are treated to him dancing with a girl. Now they're REALLY confused.
10:27: Kofi and Barrett's next, but Barrett is obviously jangled after the Dallas assault backstage. Cole, it should be noted, says "our RawACTIVE reporter" instead of "Tony Dawson". Hey, learn what a headlock is and you get namedropped, dickwhistle.
10:30: Barrett steals a page from Finlay and traps Kofi in the apron, then Bullhammers him for the win. Of course, this makes Kofi look like a sissy, but hey: Barrett's the first IC Champ to win a non-title match since 1986, so good for him.
10:33: For you Twitterphiles out there, Alex Riley's trending. Probably because certain people that won wrestling dead pools are sad they have to return the money.
10:37: If you think about it, aren't Randy Orton's shoulder blade tattoos essentially just a tramp stamps for people that wear bras?
10:38: Was just acknowledged by a Zeb Coulter tribute account. My day is complete. And we still have Ziggler and Kane to come. I must say, this show has not sucked more than an ounce tonight. AJ skipping isn't hurting at all.
10:39: Why are Booker and Long watching TV in the hall? Can't they get an office? Maybe Zeb had something to do with. This isn't Nam, after all, there are RULES.
10:48: Is 5 Hour Energy a deterrent to a sleeper hold? It's an honest question.
10:49: Dolph inadvertently knocks AJ off the apron into Langston, and Kane wins with a chokeslam. So it's Henry, Orton, Bryan, Kane, Swagger, and Jericho. I'm sensing Henry vs. Del Rio at WrestleMania. This way, Kane and Bryan can pull a Rey/Eddie and Shawn/Cena and face off at Mania, despite being tag champs.
10:57: Rock's pretty smart. He knows if you don't show up until 5 minutes are left in the show, the Wellness testers have probably left the arena.
11:00: Rock busting out CATCHPHRASES! Special occasion, I see.
11:02: Rock shares a story of his Nashville roots (legit), and even namedrops Jeff Jarrett, which he can do. Not often we get stories about buying cars from crackheads on Raw, but it sure beats Vickie screeching.
11:06: Punk finally disrupts Rock's tale of hustling junkies, and we get the slugfest, with Rock landing the spinebuster, but Heyman trips him on the People's Elbow. GTS knocks Rock dead, and Punk takes the title with him to end the night.
OVERALL: Hey, it was a fun show, and the 3 hours actually felt like they flew by. Maybe Rock just brings a different energy to these events?