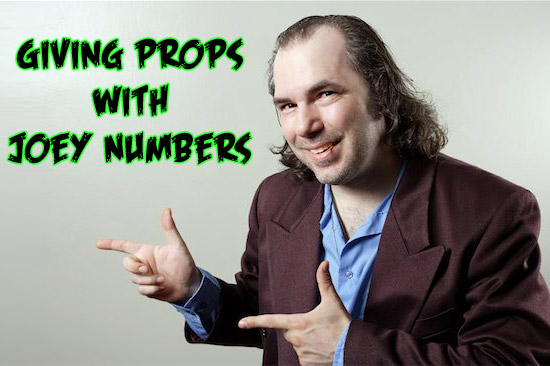 WWE SummerSlam News & Predictions with Joey Numbers
Badda bing, badda bam!  It is our esteemed privilege to introduce all our fellow Crappers to our newest feature, Giving Props with Joey Numbers!  Yes the man you thought was just a mythical creature is in fact REAL, and he has found his home at WrestleCrap.com!  Without further adieu, I hand it over to Jo Jo to give us the lowdown on the summer's biggest wrestling show!
Like you all know, SummerSlam is one of the biggest PPVs every year.  Been that way since back in '88, when I laid down a dime and made a fortune on Ultimate Warrior winning the IC strap from Honky Tonk Man.  But hey, you don't want to hear about me.  You want to hear about the lines this upcoming weekend!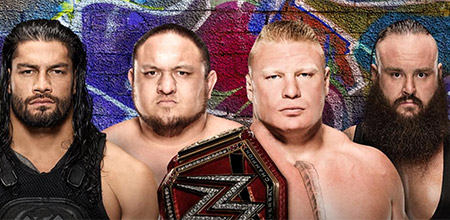 WWE Universal Championship
Brock Lesnar (c) vs. Roman Reigns vs. Braun Strowman vs. Samoa Joe
So the dirt sheets would have you believe that this may be Brock Lesnar's swan song, as there have been rumors that he is looking to return to the UFC to face Jon Jones. If his fight with Jones actually happens, it's would be in six months or a year, so I don't see Lesnar going anywhere anytime soon.  Ain't gonna happen.  Brock makes too much to walk away from the easy scratch.
But since Lesnar likes to hang out in Canada or South Dakota and not show up for pointless Raws, Vince and crew may yank the belt off him and give it to somebody else who'd be around on a weekly basis.   What better way to take the title off him than in in a Fatal 4-Way where he doesn't have to be pinned to lose it?
Current odds favor Brock Lesnar to retain but Vince will change his mind 28 times over the weekend and throw the belt on Samoa Joe.
It's my KWIKSET LOCK OF THE WEEK!
(Disclaimer: Kwikset did not sponsor this lock.  Nor do they know who Joey Numbers is.)
WWE Universal Championship Odds (5Dimes)
Brock Lesnar wins Fatal 4-Way match -280
Samoa Joe wins Fatal 4-Way match +300
Roman Reigns wins Fatal 4-Way match +700
Braun Strowman wins Fatal 4-Way match +1000
Field wins Fatal 4-Way match -99999
---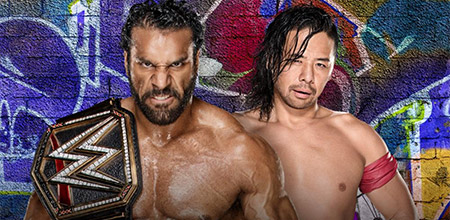 WWE Championship
Jinder Mahal vs. Shinsuke Nakamura
You know what I hate more than losing a dollar against the spread?  Evil foreign villains!  This Jinder Mahal guy has stolen everything from Nikolai Volkoff except for those cent sign tights Ted DiBiase made him wear back in '94.
Still, a Nakamura match is rarely a bad thing, so maybe he can life Jinder out of his normal ** range.  Unfortunately, they don't take bets on star ratings, just results, and who better to give you those than Joey Numbers?
The fact that Baron Corbin lost his Money in the Bank briefcase after cashing in unsuccessfully on the last episode of SmackDown LIVE says to me it's time to put the chips on the table for my man Nak.
WWE Championship Odds (5Dimes)
Jinder Mahal (end of broadcast ruling) +155
Shinsuke Nakamura (end broadcast ruling) -195
---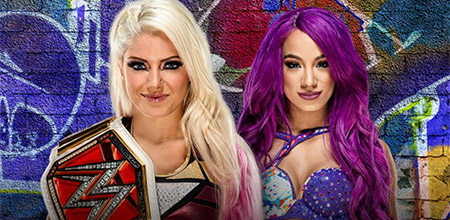 Raw Women's Championship
Alexa Bliss (c) vs. Sasha Banks
Bayley's out, boo hoo.  WWE found a new contender to Alexa Bliss' Raw Women's Championship by booking another of a string of seemingly 7,387 triple threat matches, with Sasha Banks getting her limb lifted in victory. Bliss has been on fire since winning the title, and is just the kinda chick Vinny Mac would dig.
The most trusted betting sites will offer odds so review them first.  But I'm here to tell ya – bet the house on Alexa retaining!
It's my KWIKSET LOCK OF THE WEEK!
(Disclaimer: Kwikset did not sponsor this lock.  And he already made a different match his lock of the week.  I think he may be drunk.)
---
WWE United States Championship
AJ Styles (c) vs. Kevin Owens with Shane McMahon as Special Guest Referee
Joey's pick: Styles when Shane screws Owens
SmackDown LIVE Women's Championship
Naomi (c) vs. Natalya
Joey's pick: Naomi when her shoes blind Nattie
Raw Tag Team Championships
Sheamus & Cesaro (c) vs. Seth Rollins & Dean Ambrose
Joey's pick: Shield
SmackDown LIVE Tag Team Championships
The New Day (c) vs. The Usos
Joey's pick: New Day retains when Ahmed Johnson runs in
John Cena vs. Baron Corbin
Joey's pick: Like you even need to ask.  Cena.
Finn Balor vs. Bray Wyatt
Joey's pick: You think Finn's going to lose in his demon gimmick debut?
Randy Orton vs. Rusev
Joey's pick: Rusev when Lana returns to his side
Big Show vs. Big Cass
Joey's pick: Cass when Enzo drops him brass knux from the shark cage
---
Why are you still reading this?  Get with your bookie and make some cash!