(Assistance with graphics provided by the wonderful and talented Catherine Perez)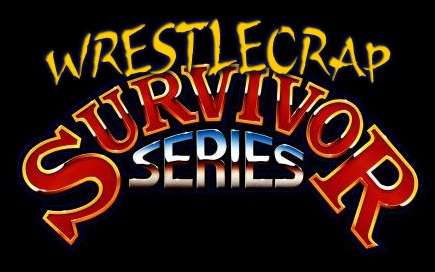 This Thanksgiving, after you've split the wishbone, settle in with the family and check out the superstars of WrestleCrap in a traditional Survivor Series event!
Teams of four enter the squared circle, and battle it out in the ultimate test of survival!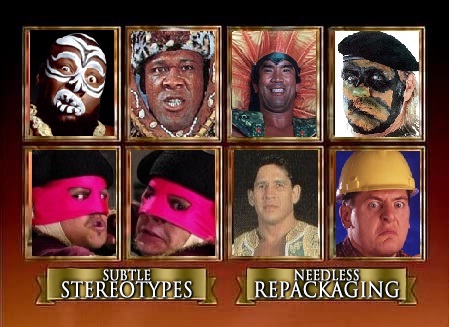 The WWE gimmick department comes under fire in this extraordinary encounter! On one team, a quartet of stars that would require sensitivity training for one Vincent K McMahon! Across the ring, four talented grapplers with Hall-of-Fame careers. Of course, none of that means anything, when the aforementioned McMahon is marketing his product towards dullards and kids (sometimes, they're the same person)! It's sure to tear the roof off the Richfield Coliseum!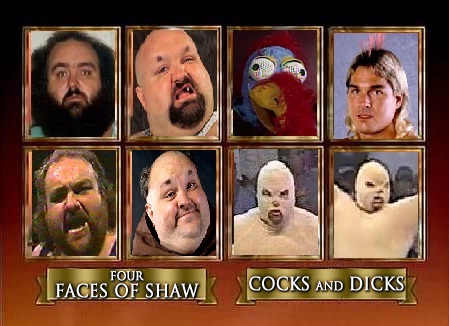 In addition, a battle of mind and body will take place. The Four Faces of Shaw represent the depths one good man had to sink in his career, playing no less than four WrestleCrap inductees! They will clash with four individually-unlucky souls whose claims to fame can be twisted into a penile pun! At least the Gobbeldy Gooker is back at Survivor Series, where he belongs!
It's Vin-sanity, as wrestling's most notable Vinces see their most mind-boggling atrocities go toe to toe! Vince McMahon's brush with a mental breakdown in the mid-1990s churned out some regrettable characters, while Vince Russo made 2000 a banner year for WCW, for all the wrong reasons!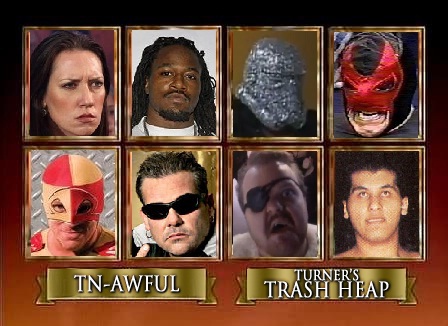 When somebody tries to compete with Vince McMahon, thinking outside the box sometimes proves hazardous! For Dixie Carter, and the bundle of buffoons that ran early-1990s WCW, this isn't more evident than the foursomes representing each group here! Paring each team down from 40 or 50 folks to just four on each team is more grueling than the match could ever wish to be!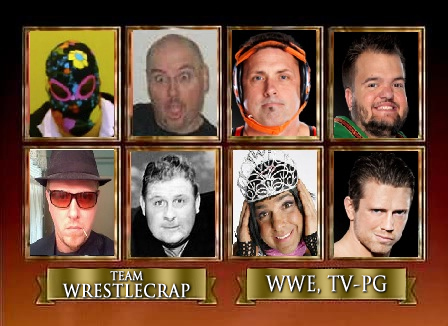 In the main event, WrestleCrap is represented by four of its dorkiest dregs (with Midnight Rose subbing for the 'injured' Blade Braxton) against their most insidious challenge yet: a wrestling conglomerate that can put out the crappiest of crap, and nothing can stop them, as they're virtually the only game in town! Morose meme-ster Justin Henry will have his hands full with arch-nemesis The Miz, while Art O'Donnell and captain RD Reynolds leave their foes with the threat, "Accept induction, or die fighting!"
After the pumpkin pie and pumpkin bread are served, save some WrestleCrap Survivor Series for your turkey day dessert!