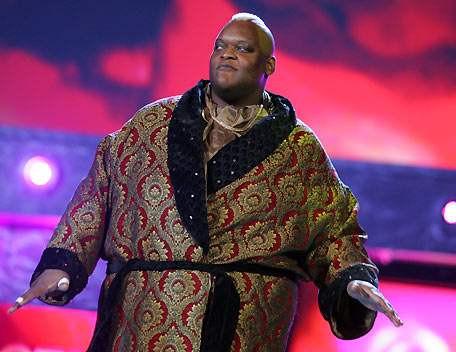 It's been reported, most notably by his former Men on a Mission tag team partner Mo, that Nelson Frazier has passed away, days after his 43rd birthday. Early reports are that Frazier succumbed to a massive heart attack.
Frazier, of course, had a few memorable runs through WWE in the nineties and 2000s, with his pinnacle being a victory in the 1995 King of the Ring tournament. That led to a World Title shot at Summerslam that year against Diesel which, while not well-received, still counts as a feather in the cap of Frazier's career.
One rarely-known fact about Frazier that most may not realize: he's the first wrestler born in the 1970s to ever compete at a WrestleMania, doing so at age 23 at WrestleMania X. It was in that year that Men on a Mission briefly reigned as WWE Tag Team Champions, trading the gold with The Quebecers on a European tour.
Of course, WrestleCrappers most fondly remember Frazier for his parts in some of WWE's more absurd moments, most notably his turn as "The World's Largest Love Machine" in 2005 (which, creepily enough, was just inducted to the site last week as a Valentine's Day tie-in).
While I can't personally speak for my fellow scribes at this site, this is how I most fondly remember Viscera: for a silly gimmick that he played with an appropriate grin. The best midcard gimmicks (even the 'Crap' ones) are the ones in which the performer clearly has fun playing. There's little doubt that Frazier had a blast as an oversexed leviathan with Barry White-inspired music. The gimmick led to one of my favorite Scott Keith lines, when Viscera put the moves on Shelton Benjamin's "Mama" at New Year's Revolution 2006 in the catering area, as Keith deadpanned, "(Mama Benjamin) meets Viscera, who even gets entrance music when he walks into a cafeteria."
Frazier's career was distinct, memorable in its own way. For as many faceless giants as wrestling's produced, "Big Vis" made a mark both comedicly, and as a heel roadblock. He will be missed certainly, and we here send our condolences to his family, friends, and loved ones.