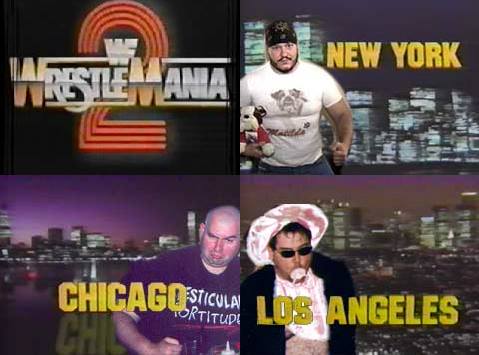 Blade said it best on Facebook.  Obviously everyone here at WrestleCrap.com is devastated at having lost another dear friend.
Very sad news to report and I'm still stunned. I just learned of the passing of one of the longtime members of the WrestleCrap family, Harry Simon. For the longtime WrestleCrap Radio listeners, Harry portrayed the role of my longtime rival on the show, the notorious bill collector, "John Thomas." Harry's incredible humor cannot be understated in regards to just how much he meant to our show/listeners in the early days of WCR, as well as the written material he provided for the website. I remember us chatting a while back about how much fun we had doing the old WrestleMania 2 induction, which is where this image is taken from.
Just a great, great guy and a good pal. He will be forever missed. Rest in peace, buddy..