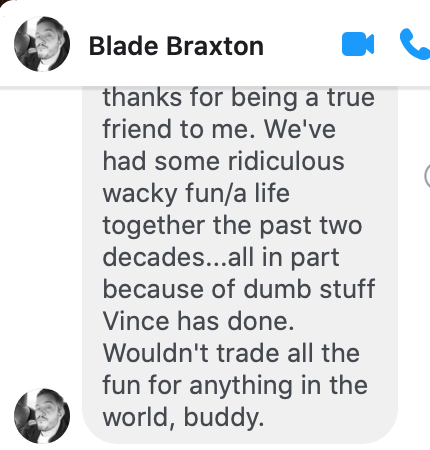 What can you possibly say when you lose one of your best friends?
What can you say when you know he won't be there on the other end of the tin can and string when you call?
What can you say but…I love you. As I try to type with tears in my eyes…I just realize how my life was blessed with you in it. And I know that anyone who ever knew you, who ever truly knew you, felt the same way.
Every time we talked on the phone, every single time, we always made each other laugh. We always said it and it was always true – the funniest stuff was never recorded. It was just two friends laughing together. Knowing that is gone is heartbreaking, but knowing I was blessed to have you in my life for so many years is something I will forever cherish.
I'll have more to say in the coming days when I can attempt to wrap my brain around this, but for now, I simply say this:
I love you and miss you my friend.
(We thank everyone who paid for Blade's funeral expenses through GoFundMe.)