April 1, 2000.  That's the day a silly little webpage hit the internet for the first time.
Looked something like this: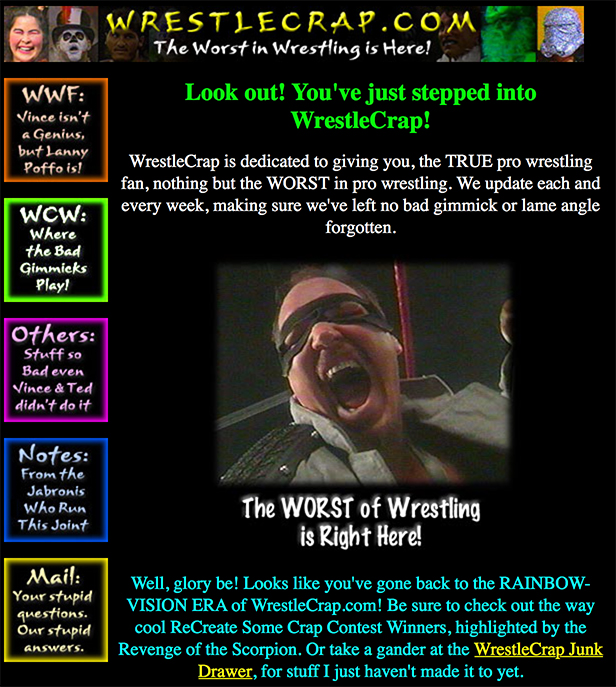 It's been an incredible journey, I will say that.
Inspired by a Friend
Those of you who have been here for any length of time have probably heard the story behind the creation of the website, but hey, it's the site's 15th birthday, so you're going to get it again.  The site was never meant to be anything, really.  It was an excuse to use a computer (Mac Quadra 840 to be exact!) for which I paid far too much.  See, I bought that computer knowing I needed to learn how to do web design because I kinda sensed that was the future.  The question was what topic would make for a good site.  I had it narrowed down to two, those being my primary hobbies: pro wrestling and video games.
I basically ruled out a video game site early on, as there were tons of them out there and I didn't really know what I could bring to the table that wasn't already available.  Pro wrestling sites were in their infancy, with the likes of Al Isaacs' Scoops and I am pretty sure Dave was around as well with wrestlingobserver.com.  I think Bryan came along a year or two later, but I could be wrong on that.  I know that Figure Four Weekly dates back much later than WrestleCrap.com (I was a subscriber before I ever launched), but not sure about the online aspect.  Even if he hadn't launched his online presence yet, there were so many sites out there with real backstage access that I felt I wasn't going to add anything there either.  So I was stuck with a $3,000 computer and no good ideas.
But one day I got that idea; it came from my friend, Merle Vincent Griggs.
Merle was part of the Indianapolis wrestling group I hung out with, along with "Diamond Dan", Trash (Casey) Losagain, Top Rope Troy Miller, and the rest of the folks who worked for places like Championship Wrestling of America and Pro Wrestling International.  Merle loved pro wrestling; in fact, he even ran a show in Indianapolis under the NWA banner featuring the likes of Dan Severn and New Jack.
Really; I was at ringside for a match involving NEW JACK.
(And when I say I was 'at ringside', I mean I was as far as humanly possible away from that ring.  Mama Deal didn't raise no dummy.)
So Merle and I were talking on the phone about the previous night's Nitro.  We were in the midst of the Monday Night Wars (sorry Steph, it will always be a plural to me), and Merle just had to tell me about something he saw on Nitro that was completely idiotic.  "It was the worst thing I'd ever seen in the history of pro wrestling," he noted.
"Worse than the Gobbledy Gooker?" I scoffed.  "I don't think so!"
We then spent the next hour laughing about the very worst of pro wrestling…and I knew what my site was going to be all about.
But it still didn't have a name.
That came a couple weeks later.  I had a few in mind, like worstofwrestling.com and I think wrestlinghallofshame.com.  But I didn't really like those.  I wanted something short, to the point, and something memorable.  Just kept trying things over and over, and would float them by my now-wife, Mrs. Deal.  She would generally kinda shrug when I laid out my suggestions.  Then I said, "What do you think of wrestleCRAP.com?"
She looked at me like she thought I was insane.
So I said it again.
"WRESTLECRAP.COM"
This time she kinda shook her head and looked at me like she KNEW I was insane.
And that's when I knew I'd hit pay dirt.
Why On Earth Did Anyone Ever Read This Stuff?
So I started working on WrestleCrap.com, the Very Worst of Pro Wrestling.  I did some video captures, some sound grabs, wrote little blurbs of text, figured out some very basic HTML.  I believe it was about this time that I met the legendary Greg Ogorek formerly of GlobalInternet.net, and he got me going and I was set up for launch fifteen years ago today.  Fifteen years later, I still consider him a great friend…one of the very first I was blessed to meet on this incredible journey.
As sappy as it may sound, from day one, WrestleCrap has been about my friends. I've said this on a lot of interviews in the past, but it bears repeating here: this site was never about getting tons of traffic.  I don't think I've looked at site stats, page views, Google analytics, or any of that stuff more than a handful of times.  I honestly just don't care about it.  The only thing I've ever really cared about is making my friends laugh.  And in the early days of the site, I literally thought it would be just my local friends and no one else doing the laughing.  If I could even make them laugh, that is.
It's a concept that is baffling to a lot of people.  I've had writers on the site why I don't do this or that to increase traffic, and when I tell them I have no idea what the daily traffic is, they think I'm completely insane.  I've had offers to analyze the site so that we get more traffic, but I always turn them down because it's something I have zero interesting in knowing.  All I care about is making someone laugh about pro wrestling.  And in the early days of the site, it was literally my handful of friends.
Quickly, though, I started getting emails from folks about things I'd post.  I believe since day one, I always tried to update the site on Friday mornings/Thursday nights.  I thought it would be a good way for people to waste time as they waited for the weekend to start, so that was the logic there.  Getting those early emails was cool; it meant that I was causing others to if nothing else remember stuff from days gone by. And yeah, a couple of them even noted that those early inductions made them laugh.
Which is pretty amazing to me when I look back at them.  Most of them were maybe 250 words tops, with 2-3 pictures.  But the internet wrestling scene isn't what it is today, where there are countless websites and message boards where folks can post pics of these things. And YouTube either didn't exist or no one knew about it.  All the images I found were captured via the magic of a VCR hooked into my computer, which was fairly rare back then.  It made doing those early inductions a real challenge, as I'd need to hunt through hours of footage just to find something that may be comical.  Today, you Google "Gobbledy Gooker", back then you looked at a closet full of VHS tapes and hoped for the best.
The Loss of a Friend
So I started writing inductions, and Merle did a column called Menacing Thoughts, which was just whatever he felt like writing about that week.  And it was pretty much completely random; one week, I remember he was going off about a couple of young guys on WCW.com, and one of them got REALLY ticked off that Merle said he thought they were no good.  The guy's name?  Jeremy Borash.  It wouldn't be the last time that we got hate mail from those in the business, as over the years I've been called out by Oscar from Men on a Mission to Mark Madden to Vince Russo to everyone in between.  But we always laughed it off, because we were wanting to just entertain ourselves.
Sadly, the fun with Merle didn't last, as he died within the first four months of the site.  That really hurt, and still does to this day.  Merle was a class act and a super funny guy, my tribute to him is here if you've never read it.  That was the first really tough time I went through during the time running the site.
Not sure I ever considered truly shutting down at that time, though – WrestleCrap was there to make people laugh, and honestly, it has made ME laugh over the years probably more than anyone.  It helped me get through a very rough period of my life, and that is something I've heard echoed from others.  In fact, on Facebook just last night, someone told me how just listening to WrestleCrap Radios of old helped him through some of life's tough times.  It's certainly something that keeps me going.
The Shutdown and Meeting a Legend Who "Got" The Site: The Amazing John Tenta
One of the early folks we discovered who 'got' WrestleCrap was John Tenta, whom you might know better as Earthquake.  A giant mountain of a man with a heart bigger than you can imagine.  I was so blessed to get to know him, and will never forget how kind he was to actually take my call at a time when no one did.  To be fair, it was tough to get interviews when you told people you worked for WrestleCRAP and you were writing about the worst in wrestling…so hey, we thought of YOU!  People didn't respond to that.  In fact, no one did but John.  He did, because he knew it was ok to laugh at yourself.
I believe it was around this time that I actually talked to another guy who would be hugely influential in my life: Bryan Alvarez.  He was writing for a magazine you may have heard of called Penthouse.  Really, yes, THAT Penthouse.  At the time, wrestling was so hot that nudie mags were dedicating a couple pages a month to it, and Bryan was the guy penning them.  He actually interviewed me for the mag, and that exposure was gargantuan.  It also led to one of the darkest hours in the site's history, as I had to shut down WrestleCrap.com because the bandwidth was costing me a fortune and the site wasn't generating any real revenue.  Because, well, you just read about my business philosophy with it.
But I was able to salvage my finances thanks to many dedicated WrestleCrap readers, who purchased discs of the site's archives on eBay.  (The archives continue to be accessible today via online archive access.  The only reason we do that is to try to cover the costs of the site, so if you want to help out, please do so here.)  That early auction allowed me to get out of the poor house and start rethinking the site.  Less than a year later, I was able to get it back online albeit in more limited form.  Over time, though, we were able to grow it back to a reasonable amount of content.  And then something pretty amazing happened, as a reader asked in the old Mailbag section if I'd ever consider writing a book.  One thing led to another, and lo and behold, I'd written the first ever WrestleCrap book.  I remember working so hard on that book, trying my best to bring the comedy of the site to the printed page.  I remember my old friend Jeff Cohen supplying me with photos from back when he used to shoot for the Apter mags.  And I remember Quake writing a foreword so amazing that it kinda put the rest of the book to shame.
Soon Quake would be gone…to this day when I think of the day he passed, I still cry.  He was such a good man, SUCH a good man, and he was taken far too soon.  And I will never forget what he did for me personally.  God bless you, John.  You're going to be one of the first folks I search for when Jesus calls me home.
The Death of WCW
Writing the second book was brought upon by the first book doing shockingly well (because everyone thought it would tank).  But I didn't want to write another WrestleCrap book, so I decided to write about the demise of World Championship Wrestling.  I knew I couldn't do that by myself, I needed an insider…preferably one with a sense of humor such as myself.  So I rolled the dice and asked Bryan to write it with me.  And write it he did, as that dude just wrote and wrote and wrote and wrote.  He was simply an amazing co-author, and to this day, I consider myself very blessed to call him my friend.
The response to The Death of WCW was almost overwhelmingly positive.  I am proud of that book, as I feel we hit the nail on the head with what actually happened to a company that should have been successfully running to this day.  The fact we were able to release a 10th Anniversary Edition that was greatly expanded was also a lot of fun, and I am very grateful to Bryan and everyone at ECW Press for the opportunity to do so.
I also want to note that Bryan worked his butt off following the release of that book on his site, F4WOnline.com.  I believe it is now the number one non-WWE pro wrestling site on the planet.  If you've never done so, believe me, you need to subscribe.  The audio alone is well worth your money.
The Best Gift The Site Has Ever Given Me
I cannot talk about friends on this site without spending a good chunk of time talking about the one I met due to a contest I put up on the site.  He wound up not being just a friend, but one of the best friends I've ever had in my entire life.
Blade Braxton.
Seriously, we met due to an idiotic contest I put up on the site when I asked for videos of readers re-enacting WrestleCrap moments.  Blade did Revenge of the Scorpion, a parody of the Black Scorpion who turned out to be my uncle, Burt Reynolds.  It was the last tape we got.  I remember watching it with Mrs. Deal…and we were both in absolute tears watching this video.  ABSOLUTELY BRILLIANT.  I laughed so hard and rewound that tape so many times I am surprised it didn't fall apart the first week.  Then I talked to the guy, met the guy behind it and you know what?
That tape didn't do him justice.
He was way funnier in real life than on that video.  Over the next ten years, we worked on the site together, doing inductions, Jobbers of the Week, It Came From YouTubes, Someone Bought This.  We created all that stuff together.  We wrote the third WrestleCrap book, The WrestleCrap Book of Lists!, together.  But the thing I think a lot of folks will remember us for is creating the most absurd wrestling podcast ever, WrestleCrap Radio.
The idea behind that came up due to the fact that we made each other cry with laughter every time we talked on the phone.  So we created stupid segments, ridiculous characters, and tried to cram as much goofiness as possible into every show.  A lot of folks loved it, and some absolutely despised it.  We eventually burned ourselves out doing it, but at the end of the day, it made us laugh together, which I consider as a success.  We still talk on the phone at least twice a week, and trust me, all the funniest stuff doesn't make the air.  That's one reason we wanted to do The RD & Blade Show and record them as I was driving around to try and capture that.
But you guys never get the absolute best stuff.  That's because we simply crack each other up whenever we talk just by being friends.
And Let's Not Forget…
I could go on and on about our friendship, but I will simply say this and I mean it more than anything I've ever written on this site: Blade, you are one of the best friends God has ever blessed me with, and I am so thankful you are in my life.
And there are so many other friends I've made over the years due to this site: amazing writers like Triple Kelly, Justin Henry, Harry Simon…what on earth did I ever do to deserve to work with you guys?  You're far more talented than I am.  Jed Shafer!  Emerson Whitner! Premier Blah!  The amazingly talented CURRENT writers, Jordan Mishkin and Art 0'Donnell, who smoke me by a great distance.  And let's not forget the guy who works harder for this site than anyone could ever dream, The Big Cheese himself, Paul Kraft.  You sir, are another amazing friend.
And I know I am forgetting other great people that have worked on this site.  (Folks like Derek Burgan (who had the awesome Gimmick Table back in the day, as well as Sean Carless, who has created so many unbelievable Photoshop images…those Gorilla Monsoon Valentines?  All his!)
I apologize for that…hard to remember everything as you are just overcome with the emotion of looking back over the last 15 years.
But it's not just them.  It's also all the folks who have simply emailed or messaged me on Facebook or Twitter.  THAT is amazing.  And I am forever thankful for it.
I cannot believe this stupid site has given me so many friends!
I'm waxing nostalgic here, but I can't help it.  WrestleCrap.com may just be a dumb website to the rest of the world, but to me, it's way more than that.
So I say THANK YOU to everyone who's ever even just visited here.  It's been a great 15 years.  Here's to many, many more years of laughter and friendship to come.
Sincerely,
Randy Baer
aka RD Reynolds