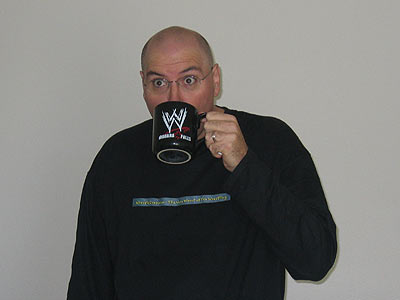 We've experienced a loss in the WrestleCrap family today.
No; not the loss of a person, but the loss of a very important thing that was very much a part of the bedrock of WrestleCrap Radio.
Today I saw a Tweet from R.D Reynolds that broke my heart. It's the kind of thing you never want to read.
I knew I had to share it with you Crappers who would understand my shock and sadness.
R.D Tweeted thusly:
Cue the sad news music. My WWE Niagara Falls Cup has a crack. Going to have to wash it up and put it up on the shelf next to my You Suck tie

— RD Reynolds (@WrestleCrapRD) February 9, 2014
I guess it's true what they say about the good dying young.
WWE Niagara Falls Cup left us at the tender age of about 12 years old.
Oh WWE Niagara Falls Cup, you had a long, fulfilling life providing ample hydration to our humble website's founder as he spent many an hour on WrestleCrap Radio regaling us with stories about his frequent Trips… To The Grocery and tales of Black Friday adventures.
He surely could not have done so many hours of the show without you there to support him in his times of thirst.
We will remember every single audible sip of water from so many memorable episodes of WrestleCrap Radio gone by.
I think I speak for everyone when I say that WrestleCrap Radio would not have become the success it was without you keeping our host's throat properly moisturized, WWE Niagara Falls Cup.
Now it is time for you to take that long deserved rest on R.D's shelf after a lifetime of hard, dedicated work where you will occasionally be cleaned by a feather duster and gazed upon with fondness as R.D remembers all the good times he shared with you.
Rest In Peace, WWE Niagara Falls Cup.
Though you can no longer hold any liquids, you'll always hold a special place close to our hearts. No other cup or mug will ever replace you.
WWE Niagara Falls Cup.
BORN: 2002 (?).
DIED: February 9th, 2014.
"He died as he lived- full of water and the desire to quench the thirst of those in need".
I want to encourage you all to remember the good times as you cope with this tragic loss by getting your access to the WrestleCrap Archives where you can listen to each and every episode of WrestleCrap Radio; many of which feature R.D drinking from the late WWE Niagara Falls Cup (oh yeah, and a bunch of other really great stuff, too).