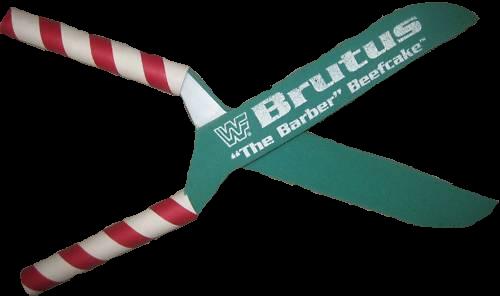 These Brutus "The Barber" Beefcake foam hedge clippers erm.. I mean "scissors" were sold at WWF live events in the early 1990′s.
Mostly, I just remember being disappointed that you couldn't open and close them, so all you could do was wave them around like some kind of crazed eccentric gardener.
UPDATE- The son of the man who designed these says in a comment below that they did in fact open and close like real hedge clippers; so either I'm misremembering (most likely) or what I saw at a WWF house show was a later revision that didn't move.
The image used above is courtesy of RadWrestling.com's Foam Finger section (check out all the fantastic images of classic WWF/WCW Foam Fingers there along with lots of other cool classic wrestling merchandise!).
Did anyone Crappers have these foam scissors? Let us know in the comments section below!