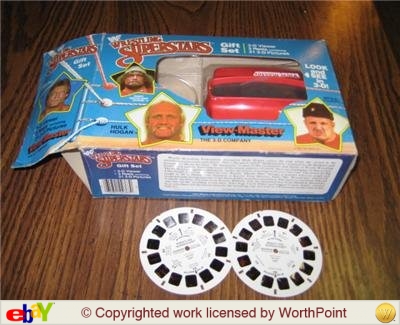 Who didn't have a ViewMaster as a kid? It's one of the best, most beloved toys of all time, so I'm not surprised there were WWF reels made for it.
From 1985, here's a "WWF Wrestling Superstars ViewMaster Gift Set" which came with a ViewMaster, and 3 WWF reels. The reels were also sold separately in a 3-pack.
I really don't know how much fun it would have been to look at a bunch of still images of wrestlers… um… wrestling, when part of the fun of watching wrestling is in all the exciting moves they do, but I guess it's a unique idea, anyway and an easy gift for Grandma to buy her wrestling fan Grandson.
Maybe they should have released WWF cartridges for the Fisher Price Movie Viewer instead? Then you could at least have seen the wrestlers in motion!
Unfortunately, I never had thees reels for my ViewMaster. All I ever got was the WCW TaskMaster Gift Set. Man was that a disappointing Christmas morning…
Anyway, what ViewMaster reels did you have growing up?