Gooker voting is complete for 2015!! And it was exceedingly close. A look at the percentages showed a tie, but looking at the actual votes does in fact give us a winner…by 17 votes!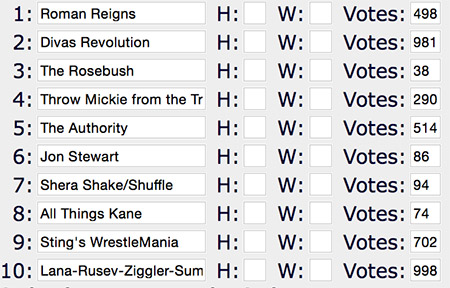 WOW!
As it was so close, we will be inducting both the Divas Revolution (as first runner up) and the Rusev-Lana-Dolph-Summer Love Trapazoid (as the official Gooker winner) over the next few weeks.
Thank you to everyone who voted!!
---
What? Another year is over? How old am I? A million?
Let me put my walker down so I can hunt and peck away and thusly introduce you to this year's nominees for the prestigious WrestleCrap.com Gooker Award! For those of you young whippersnappers, the Gooker is this here's website's most prestigious (read: only) honor: that is, the absolute dirt worst happening, storyline, or character we all had to endure over the last twelve months. Pick your poison, kids!
---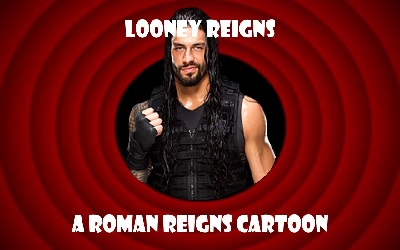 All the Worst of Roman Reigns
Where to even begin with this poor guy? He was shoved down WWE fans' throats despite their repeated desire to never see him again, most notably at the Royal Rumble where he was nearly booed out of the building as he emerged victorious. Indeed, the whole angle with Bray Wyatt, wherein the heel claimed "Anyone but you" seemed to echo overwhelming fan sentiment. Who could blame them? No doubt many of you are going to vote for him solely to hear his acceptance speech, which will no doubt contain the phrase "Sufferin' Succotash!" Or maybe "Tater tots." Either way, it will suck.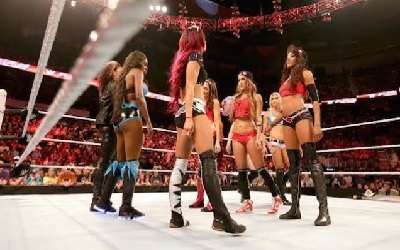 The Divas Revolution
NXT has surpassed main roster WWE as the choice for many of today's more discerning wrestling fans. One way in which they have done so is to feature women not as sex kitten playthings (for the most part), but rather to emphasize their athletic ability which has led to fantastic matches featuring Sasha Banks, Bayley, Becky Lynch, and many others. Having seen the splash the crew was making in the "minor leagues", the decision was made to bring them to Raw. What followed was an assimilation so nefarious the Borg would have shaken their heads, as the women were quickly morphed into "Divas" complete with horrific storylines and ridiculous stables.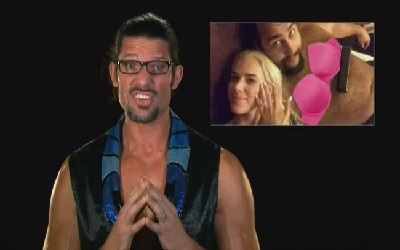 The Rosebush
Says fellow Crapper Justin Henry: "Adam Rose won the hearts of many viewers during an ESPN special in May, when he was shown to be a doting father to a son born with an abdominal birth defect. WWE's best idea to get this inspirational and admirable figure back on TV comes in the premise of a 'celebrity gossip' segment that was written with 12-year-olds in mind. Actually, that's probably an insult to those younger viewers."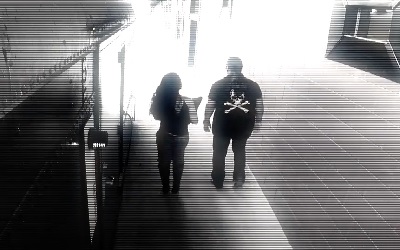 Throw Mickie From The Train
Do you have any idea how much it pains us to put one of WrestleCrap.com's all-time favorite performers up for a Gooker? We spent the better part of ten years (10 YEARS!!!) making sure we mentioned her by name on WrestleCrap Radio, so you knows we loves us some Mickie James! Sadly, TNA is a wretched hive of scum, villainy, and horrific booking so yeah, here we are. In this completely idiotic angle, James Storm played nicey nice with Mickie only to throw her in front of a moving train. Sound fun? Trust us, it wasn't!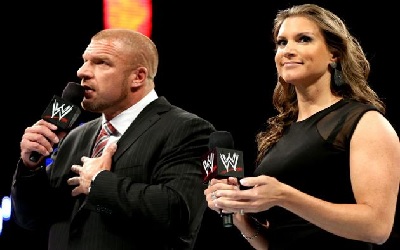 It Never Ends – All Hail The Authority
If you love Stephanie McMahon or Triple H, then today's WWE is for you. Every week it feels as though we get decades of them droning on and on forever on Raw. Yes, we know that you can't cram a decade into a week. Somehow it feels like the ability to manipulate time into a more boring and lengthy matter is their super power. That or Steph's ability to slap and emasculate every single 'superstar' on the roster. Gotta love when she slaps around mighty men and makes them bow before her!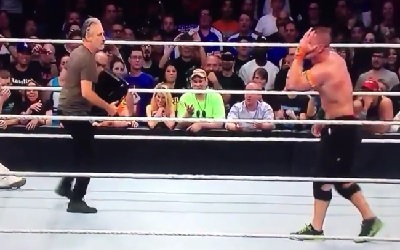 Jon Stewart: Heel
Sure, a lot of folks wanted to see John Cena lose his SummerSlam match against Seth Rollins, but did anyone want The Daily Show's Jon Stewart to be the deciding factor? Liars. But hey, that's what happens when you have a company like WWE who is seemingly desperate to get even the most borderline celebrity involved with their product.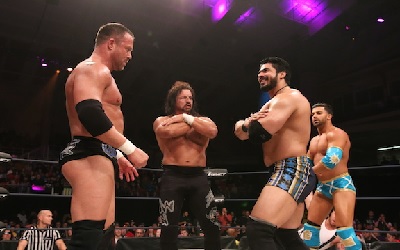 The Shera Shake
"Or is it the Shera Shuffle? Either way, Mahabali Shera, TNA's 'trump card' for drawing toward their TV tapings in India (that were cancelled), possesses the ability to charm his opponents with a simple dance move, causing them to replicate the dance themselves. The picture to the right says it all: Al Snow looks boggled, while Mr. Anderson looks like he'd rather be anywhere else in the world. So would we!"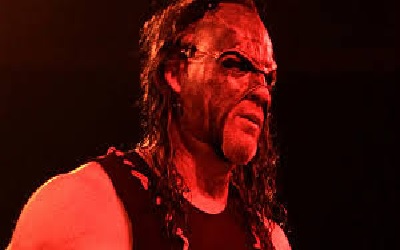 All Things Kane
"Seth Rollins was at one time booked as the focused and calculating tactician of The Shield, which explains what Triple H kayfabe saw in him. Then he becomes so dumb that he doesn't anticipate that Corporate Kane taking a leave is the precursor to Demon Kane (or rather, a 48-year-old cosplaying as a red Angry Bird) showing up to kick his ass." Even better was when we started get job evaluations on Raw. Not sure about you, but I know I like my pro wrestling a lot better when it features JOB EVALUATIONS!
Sting's WrestleMania Moment Becomes Yet Another Reason to Bash WCW
For years, fans had longed to see Sting compete in a WWE ring. And make no mistake about it, he looked pretty darn good as he battled Triple H at WrestleMania 31. However, by the end of the bout Sting looked like a total fool, as somehow the match morphed into a story about how he was here to protect WCW's honor. You know, the company that had died FIFTEEN YEARS EARLIER. That would have been bad enough, but just so everyone knew who the real winner was, Sting made sure to shake Hunter's hand at the end. Because you always do that when a guy smashes your head with a sledgehammer minutes earlier.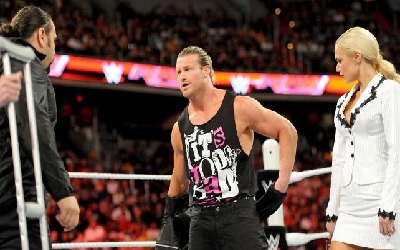 Rusev-Lana-Dolph-Summer Love Trapazoid
Art0Donnell sez: "A never-ending story line that derailed the characters of two of the hottest heels in the company also managed to include a dead fish, Dolph Ziggler's penis, and an ungodly amount of denim among its countless twists and turns. Oh, and when I called it 'never-ending' just now, I lied; it ended unceremoniously when Lana and Rusev announced their engagement on Instagram the one week that Vince decided to enforce kayfabe. Everyone involved in this fiasco ended up looking like a schmuck."
---
And there you have it! Your choices for the very worst of the very worst of 2015. What should wear the turkey suit? YOU MAKE THE CALL!