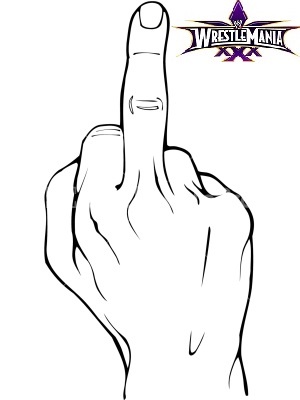 New Orleans, LA – During a press conference promoting Wrestlemania 30, Triple H and Stephanie McMahon revealed a brand new poster for the event.
"I'd like to thank the members of the international press for joining us today," said Triple H. "We saw an exciting Royal Rumble this past Sunday and we are now using that momentum to carry the WWE all the way to New Orleans. The Road to Wrestlemania starts now and what better way to get the WWE Universe excited than with a brand new poster?"
Stephanie McMahon, removed the velvet covering from the new poster, drawing gasps from those in attendance.
The artwork for the poster was unconventional to say the least.
"With this new poster, you can clearly see how we feel about our loyal fans," said Triple H. "While the art may be minimal, it's the simplicity that truly makes it special. The hand signifies the unity the WWE has with it's fans. The upturned finger represents the number one, showing the world that we are the best sports entertainment promotion on the planet."
"We are confident that this is going to be the best Wrestlemania ever!" said McMahon.
"That's right," said Triple H. "While nothing is set in stone, you can expect to see Batista, Randy Orton, John Cena, The Wyatts, The Shield, Brock Lesnar, Big Show, The Rhodes Brothers, The New Age Outlaws, Big E Langston, The Usos, The Real Americans, Damien Sandow, Dolph Ziggler, Kofi Kingston, Kane, Ryback, The Miz, The Great Khali and, of course, the return of the Undertaker. Am I missing anyone?"
Various news reporters began chanting "Yes!" in unison.
"Nope, you mentioned everyone, honey!" said McMahon.
"Great. This one's for the fans!" said a smiling Triple H.