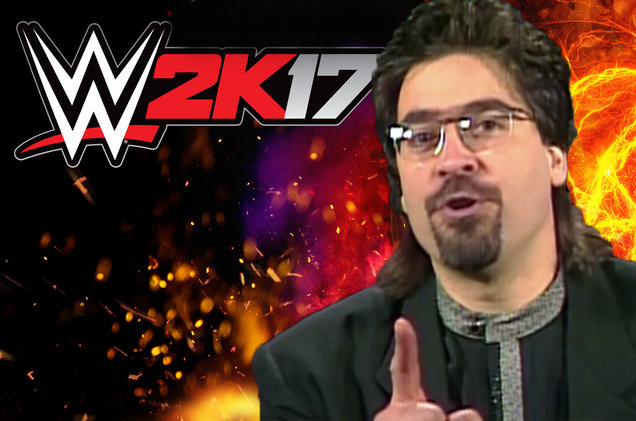 Novato, CA – WWE surprised gaming fans this week with the announcement of a new game, WWE 2K17: Creative Edition. Whereas previous edition of the 2K games put fans in the ring, this game will put fans behind the scenes
"Now wrestling fans will finally get to become a part of the creative process," said Vince McMahon in a statement. "YOU get to write the storylines. YOU get to make the decisions. YOU get to deal with the fallout when I change everything you've written. YOU get a nervous twitch every time you hear my voice."
The game is still in beta testing, but 2K has given insight into how the game will be played.
In "Surviving The First 3 Weeks" gamers will experience all the joys of becoming a Writing Assistant for the WWE. This mode takes place in real-time, so 14 to 18 hours of gameplay are expected. Learn how to go hours without a bathroom break, deal with Stamford traffic, explore the dollar menu at the closest fast food restaurant, and find the most comfortable place to sleep in your office. The final boss will be getting an idea on an episode of Superstars.
The next mode will be "Get Mr. McMahon His Coffee". Great! Mr. McMahon knows your name! Now it's up to you to get his coffee. Make sure to add just the right amount of cream or else "You're fired!"
The third game mode will be staff writing for Smackdown! How fast can you rewrite a script 10 minutes before show time? You're about to find out! A series of quick time events will determine if your new script is a hit or a dud. Make sure to enter the special DLC code to enable a "comedic segment" to help eat up time.
For the final mode, you will be the head writer for Monday Night Raw. In your toughest challenge yet, you will have to read hundreds of comments on Twitter and Facebook saying how you have no idea what you're doing. You must dissect comments from people that claim to hate your show, but still watch it every week. Try in vain to get JBL to read his lines! Pretend you're listening to Michael Cole! And to really immerse the player in the WWE creative experience, WWE Producer Kevin Dunn will personally sit on your couch and loudly eat a sandwich.
Pre-orders of the game have already reached one million with many believing the "Vic Venom" instant add-on to be the driving force.