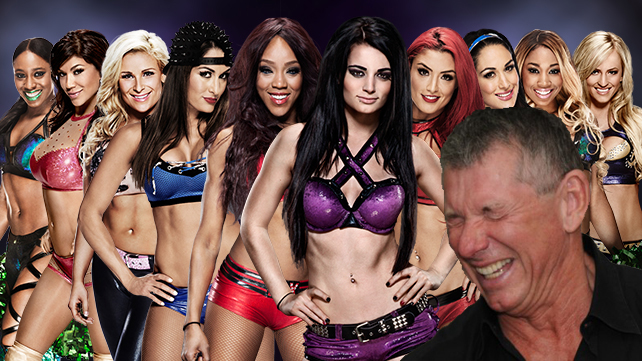 Stamford, CT – In a closed-door meeting, Vince McMahon, Triple H, and Stephanie McMahon announced to the WWE Divas that an entire episode of RAW would be dedicated solely to them.
"We'd like to thank all of you ladies for coming today," started Stephanie. "Management understands that their has been grumbling amongst all of you about not getting enough air time or equal pay. You and the people have spoken and we would like to make start making amends. My father and I agree that we should give you Divas a chance to shine. That's why next week will be an all-Divas edition of Monday Night RAW!"
Shocked, the Divas looked towards Vince McMahon for confirmation, who sat stone-faced at the end of the room.
"It won't be easy, but we have the utmost confidence in all of you," said Triple H.
Unseen to the Divas, Vince briefly cracked a smile before returning to his emotionless state.
"Here is what we are thinking: Natalya vs. Naomi to open," said Triple H. "Now, I want you both to understand that this is a very important spot. We need to start the show off strong. That's why we want you to go at least 10 minutes. Lots of chain wrestling and reversals. You two have to show the crowd what being a Diva is all about."
Vince let out a brief noise, drawing the attention of some Divas in the room.
"Next, we're going to have a six Divas tornado hardcore match with Cameron, Summer Rae, Alicia Fox, Layla, Brie Bella, and a returning Tamina Snuka," said Stephanie. "Time to show some attitude out there. Some toothless Diva aggression!"
Vince began to shake a little, scrunching his face tightly.
"Then we have a 3-way for the Divas title," continued Triple H. "Paige vs. Nikki Bella, vs. AJ. This is the big one ladies. You're getting ample time for this because you deserve it. I want you to call this in the ring because we believe in you."
Tears began to steam down Vince McMahon's face as he held his sides.
"Now the main event. This is going to be an Iron-Woman match. You're going to get a full hour for this. Eva Marie and Rosa, this is your moment to shine. Not just for yourselves, but for all Divas everywhere. Show the world that you are smart, sexy, and confident. Show the world that we should 'give Divas a chance'."
Unable to contain himself, Vince howled with laughter. Several Divas jumped when Vince began pounding his fist on the desk in pure glee. Triple H and Stephanie both joined Vince in laughing hysterically as the Divas sat uncomfortably.
After several awkward minutes, Eva Marie broke the Divas' silence, stating, "Umm Mr. McVinceman. Do I get to meet Iron Man before or after my match?"