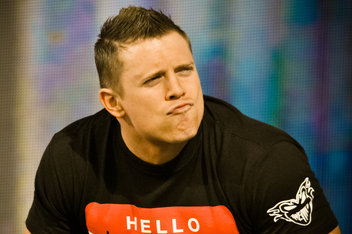 Los Angeles, CA – In a shocking turn of events, WWE Superstar The Miz, was revealed to be a blasphemous "Old One", an ancient and extremely powerful supernatural entity from beyond the stars.
Following an exciting main event featuring WWE Champion John Cena and Daniel Bryan, The Miz, who was serving as the host of Summerslam, stood in the middle of the ring with a malevolent look upon his face. A low rumble began to spread throughout the STAPLES Center as The Miz addressed the crowd in a booming, unnatural voice.:
"My ascension has finally come to pass. The stars are finally right. I know you are afraid. I have always known. ALWAYS. NO ONE IS SAFE! SKREEEEEEE! SKREEEEEEE!"
The ring posts transformed into Cyclopean columns, forming an eldritch, and most undoubtedly evil, temple around him.
The Miz's form began to change in the most unnatural and unholy ways. Leathery bat-like wings sprang from his back. His hands became twisted and gnarled like an old, dead tree. Five monstrous eyes protruded from what once was his head. Tentacles emerged from what used to be his ribs. His face, already so punchable, became a mass of razor-sharp teeth, dripping with venom.
JBL explained, "Much like Cthulhu, Yog-Sothoth, and Shub-Niggurath, the goat with a thousand young, The Miz has descended from the stars to rule over this and all dominions. It was written in the Necronomicon by the mad Abdul Alhazred, the Unaussprechlichen Kulten by von Junzt, and the Book of Eibon. Miz came prepared tonight! He's about to go a-clubberin'!" said JBL while ripping his hair out in sheer terror.
The sight of the abomination once known as The Miz sent the live crowd into a spiral of utter maddness as they began to tear each other and themselves apart. A wall of flame rose up from fissures in the ground, consuming hundreds of bystanders.
"It's the 7th Sign! We were wrong to ignore the previous ones!" shrieked Vince McMahon. Experiencing true fear for the first time, McMahon said, "The 5th was Mike Adamle. 6th was Total Divas being picked up for a second season. We were fools! Fools! Ph'nglui mglw'nafh Miz R'lyeh wgah'nagl fhtagn!"
"Vintage Miz!" croaked Michael Cole, whose face slowly began to melt at the sight of the horrible beast.
As the god once known as The Miz flew through the gaping hole that once was the roof of the STAPLES Center, a smile spread across what once was it's face.
After the events that will surely doom mankind and plunge our world into a thousand years of darkness, Wrestling Observer's Dave Melzter only gave the segment 1 ¾ stars.