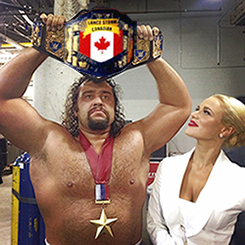 Calgary, Alberta, Canada – In an impromptu match, current WWE United States Champion Rusev defeated Lance Storm for the Canadian Heavyweight Championship.
Storm, a former WCW and WWE Champion, was conducting his weekly appearance on Wrestling Observer Live when he heard a pounding on his front door. The burly Rusev burst through the door, attacking the semi-retired Storm.
"What's this all about, eh?" said Storm curiously.
"We want your Canadian Championship and all your precious maple syrup," proclaimed Rusev's manager Lana. "President Putin has commanded it as part of a balanced breakfast!"
The two grappled throughout Storm's house, knocking over several potted plants and tracking dirt on the carpets. After several minutes of solid fundamentals from Storm, Rusev was able to lock in his submission move, The Accolade.
"If I can be serious for a moment," said Storm, "You can have the stupid belt and I would be more than happy to share my syrup."
Lana gave the signal for Rusev to release Storm from his hold and removed the Canadian Heavyweight Championship belt off from Storm's mantle.
The group then gathered around the kitchen table for a delicious breakfast of pancakes, Canadian bacon, Timbits, orange juice, and plenty of maple syrup.