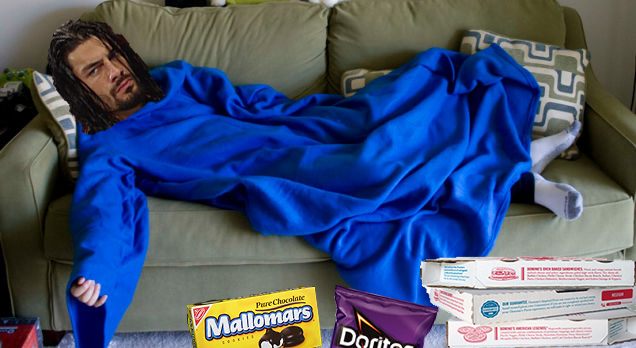 Pensacola, FL – Roman Reigns, the 2015 WWE Royal Rumble winner, has been grief-stricken following the negative reaction from wrestling fans.
"I did what WWE wanted me to do. I just want to do well and have everyone like me," said a teary-eyed Reigns from his couch. "Why does everyone have to be so mean? Calling me all sorts of names and yelling at me. I hate yelling!"
Once a fan-favorite at last year's Rumble, Reigns has suffered from numerous setbacks that have hurt his star power. Poor interviews, bad material, booking, and the ever-fickle wrestling fans have sent Reigns into a shame spiral.
"I haven't left my house in days and these sweatpants are starting to smell," said Reigns in between bites of Carvel Cookie Puss ice cream cake. "I've just been binge-watching The Wonder Years and My Little Pony on Netflix. Oh Shutterfly, you're the only one who understands me."
With a big sigh, Reigns looked at his cell phone and deleted several texts without reading them. He then hit the speed dial button.
"Yeah, Dominos? It's Roman again. Yeah, the usual. This time, can you arrange the pepperoni, meatballs, buffalo chicken and sausage to spell out 'We love Roman Reigns'? Thanks." said Roman before bursting into tears and burying his face into his Snuggie.