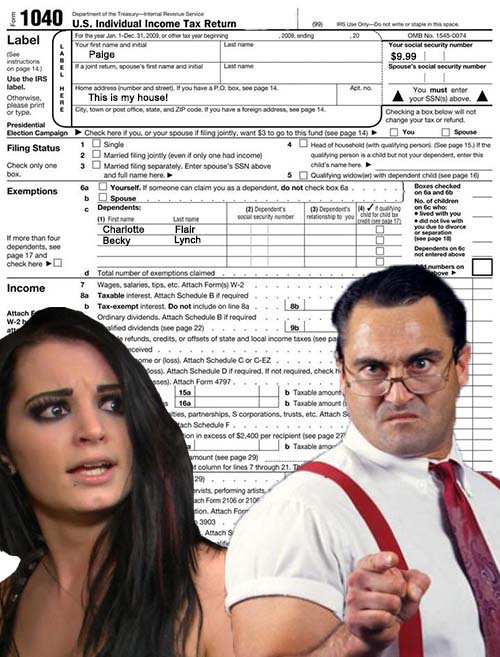 Baltimore, MD – Former WWE tag team champion Irwin R. Schyster made a surprise return on Monday to discuss the current tax problems of WWE Diva Paige.
The incident occurred during a backstage interview with her fellow PCB teammates Charlotte and Becky Lynch. Paige had just begun to give a rousing speech about the Divas' revolution when former WWE star Irwin R. Schyster interrupted.
"Excuse me, but I'm looking for a, let's see, a 'Paige, no last name given'," said IRS reading from a small piece of paper.
"Yeah, that's me," said Paige incredulously.
"Ms. Paige, do you think not paying taxes is funny?" asked IRS.
"What are you talking about?" said a confused Paige.
"Ms. Paige, I'll have you know that April 15th has already passed and you are delinquent on your payments for all the houses that you have claimed over the past few years."
Paige looked to her teammates for help. Becky Lynch shrugged and Charlotte quietly wooed to herself.
IRS continued, "On numerous occasions, including multiple live WWE events, you have claimed that, and I quote, 'This is my house!' As a tax expert I can tell you that not paying your property taxes on multiple dwellings will incur you several hefty fines and a zero percent chance at beating either Bella Twin in one-on-one competition. Now, how will you be paying for this?"
"I..I'm not…I don't…" stammered the stunned Paige.
"I can make a call to my good friend Ted. Maybe he can set you up with a loan. Here's his card," said IRS, handing Paige a solid-gold business card. "Oh, and if someone named Virgil offers you help, do not take it. Trust me."