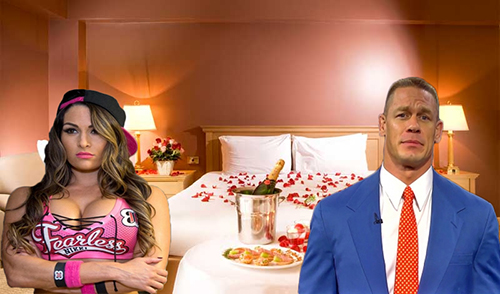 Tampa, FL – Despite his best efforts, WWE Superstar John Cena was unable to impress his fiancé Nikki Bella during their Valentine's Day celebration.
Bella entered the palatial mansion owned by Cena and was met with a long trail of rose petals imported from Ecuador. She rolled her eyes as the petals crunched beneath her Skechers. The scent of Bella's favorite perfume, "Midnight Fantasy" by Britney Spears wafted through the air thanks to industrial humidifiers Cena bought and set up in various locations in the house.
Cena, wearing a finely tailored Armani suit, greeted a smirking Bella and led her to the dining room. Celebrity chef and Food Network star Bobby Flay prepared a five-course meal for the two consisting of all of Bella's favorite dishes and flavors. Nikki casually picked at each plate throughout the meal while checking Instagram on her phone.
After the meal, Cena than carried a visibly-bored Bella to their bedroom where fellow WWE Superstar Aiden English serenaded the two with song written by Cena himself. The song recounted the couple's first meeting and Cena's deepest feelings for his soon-to-be-wife. English's tender, soulful voice was interrupted by several exaggerated sighs from Bella.
"Nicole," said Cena, ignoring the fact that his fiance's first name is actually Stephanie. "What's wrong?"
"You didn't even notice that I'm wearing a different backwards hat, John," said Bella. "It's like you don't even pay attention."
"It's a very nice hat, Nicole," said Cena. "I know you worked very hard putting those rhinestones on yourself. The lettering on 'Future Mrs. Cena' is wonderful. Please make sure to put it in the dirty hats hamper when you want it washed."
"Ugh! That is so like you!" shouted Nikki. "Next, you'll be telling me we're not getting married in the main event at Wrestlemania!"
"Um…should I keep singing or…?" asked English awkwardly.
"I paid you for the whole hour. Sing louder and maybe she'll forget!" commanded Cena.
English belted out various pop music hits from the 90's for 55 more minutes as the couple argued in front of him, before adjourning to separate rooms for the night.