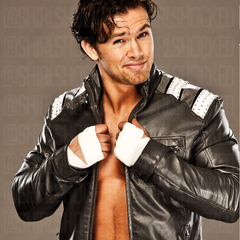 Fall River, MA – 6 year-old wrestling fan Suzy Cabral was being tucked into her bed by her father Carlos when she asked him a very important life question.
"Daddy, where does Brad Maddox come from?" asked Suzy.
Carlos cringed at the question that every father hopes never to have to answer. He never thought the day would come when his daughter would ask him that question. "Ask your mother," he said quickly, hoping to end the subject.
"I did and she said to ask you," said Suzy.
Trapped, Carlos tried once again to end the subject.
"Uh, I think Brad Maddox comes from South Carolina, sweetie,. Goodnight!" said Carlos as he tried to shut off the light and end the conversation.
"Dad-dy!" implored Suzy. "You know that's not what I meant!"
With a big sigh, Carlos knew he was defeated.
He sat down on her bed and explained, "OK, hunny, I guess you're old enough to know. You see, when Triple H and Stephanie McMahon love someone very much, they decide to bring that person to Monday Night Raw. Maybe they love them because they're a good wrestler, or they have a lot of personality, or they have a certain look. Sometimes Triple H and Stephanie have a character in their head that they think is a very good idea. They give that special person a character and hope they grow up to be super duper great, just like you," said Carlos, tapping his daughter on the nose.
"They wish real, real, hard to have a new character that everyone will like and hopefully sell lots of tickets and merchandise. But, you see, there's a whole lot going on with the WWE, and sometimes they get real busy and don't have enough time to flesh out ideas or characters. Sometimes they just throw whatever ideas they have on to TV and hope something sticks with the audience. And sometimes Creative is just not very creative and continues to push annoying characters for no good reason. Do you understand?"
"I think so. Thanks, Daddy!" said Suzy as she hugged her father.
Relieved that he was able to get through such a difficult talk, Carlos gave her a kiss goodnight, turned off the light, and began to shut the door.
"Daddy…why does Sheamus act like a jerk even though he's a good guy."
"Ask your mother," said an exhausted Carlos.