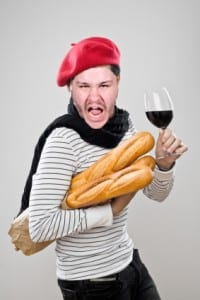 Montreal, Quebec – In what has become an increasing tradition for popular independent wrestlers who go to NXT, Kevin Steen's character has been repackaged as proud French-Canadian "Pierre Poutine"
Steen, who first made a name for himself in independent promotions such as Pro Wrestling Guerilla, CZW, and Ring of Honor, originally hails from Quebec, something WWE officials quickly latched on to.
"We haven't had a good French-Canadian heel in a long time and this just fell into our lap," said Triple H. "The Rougeaus, The Quebecers, Dino Bravo, and now Pierre Poutine. And it totally has nothing to do with his weight or lack of a jaw-line."
"Now this may upset some of the fans from his days in PWG-LMNOP or whatever, but rest assured, Pierre will still be using many of his patented moves. Of course, we'll give them some marketable names. The cannonball senton will now be referred to as 'The Gravy Train', the package piledriver will be the 'Sacrebleu!' and the crossface will be the 'The Cheese Curd'. I personally can't wait for Michael Cole to scream 'Gravy Train! Gravy Train! Gravy Train!'"
Despite being from Quebec, Poutine's wrestling gear will mimic French stereotypes, complete with striped shirt and beret. Pat Patterson has even taken Poutine under his wing to work out the finer details. NXT officials are currently trying to determine if he should walk down to the ring carrying a Montreal bagel or a baguette.
When asked about his new character, Poutine said, "It's different, but I know that WWE has the confidence in me to make it work…"
"Ah, ah, ah!" interrupted Triple H.
Poutine sighed, looked down at his feet and said in a thick French accent, "Aw haw haw. I am Pierre Poutine and no one can defeat ze king of ze Cheese Curd."
Triple H chuckled as the former Steen fought back his tears.