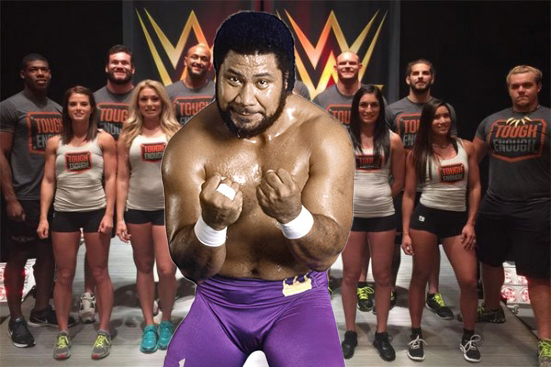 Tampa, FL – WWE shocked the wrestling world by announcing the winner of Tough Enough was none other than former WWE and WCW wrestler Haku.
The shocking announcement came during the live debut of this season's contract winners Josh and Sara Lee. As Triple H and Stephanie McMahon praised both competitors, a ruckus came from the crowd.
Haku, a former WWF tag team champion and legendary tough guy, made his way to the ring dragging Tough Enough runner-up ZZ. Haku, once also known as King Haku, tossed ZZ into the ring and grabbed the microphone from Triple H.
"You think you're tough enough, brother?" said the gruff Haku, pointing to Josh. "Are you tough enough for this?" Haku then gave several vicious slaps and chops to ZZ, leaving large welts all over his ample mid-section.
Josh's mouth hung open as he looked on in horror as Haku bashed ZZ's head with multiple elbows. Josh looked to Stephanie and Triple H for help, but his gaze was only met with the same uncontrollable fear. He looked to the announce team only to find Michael Cole cowering under the desk, JBL hiding behind Lillian Garcia, and Byron Saxton covered in urine, most of it his own.
"You give me that contract, brother," Haku quietly demanded. He then growled as Sara Lee who also handed over her contract.
"Now I want all of you in the back to come out here and sing me 'Happy Birthday' to me." he commanded.
The locker room quickly emptied with every Superstar, Diva, agent, and member of the production crew gathered on to the stage. A nervous Vince McMahon himself led the group in a rousing rendition of 'Happy Birthday' despite it not actually being Haku's birthday.
Officials have stated that there are already plans to create a new King Haku action figure which will definitely, 100% include a crown this time.