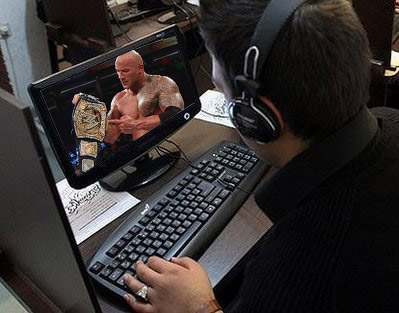 Chicago, Illinois – Avid wrestling fan Dan DeAmonte demanded a refund from WWE following the Royal Rumble pay-per-view despite watching it via an illegal stream online.
"I've been watching WWE for almost all my life and I never miss a show" said the 29 year old Pizzeria Uno cook and self-described "smark". "Sure, I don't actually own a TV and haven't paid for a pay-per-view in six years, but I feel that the WWE really screwed me over with the Royal Rumble. I spent my hard earned money on snacks and internet access and I deserved to see Dolph Ziggler win the Royal Rumble and CM Punk retain over The Rock. They owe it to me and it's not like they need my money. If Vince can blow $100 million on Linda's Senate campaigns, they can do the honorable thing and give me $54.99."
DeAmonte, who owns an external hard drive containing over 10,000 songs, the complete series of The Simpsons, and over 20 movies that are still in theaters, has taken his gripe to the internet in hopes of starting a class-action lawsuit. "Oh dude, the internet wrestling community is so mad. You should have seen my Twitter feed last night. We feel totally disrespected and think we deserve some compensation. If they don't want to give me money, then maybe they'd take me on as a writer. I have some great ideas that would really turn the company around."
When asked about possible legal action, WWE lawyer Joel Spitz said, "I cannot publicly comment on any particular case at this time. Rest assured, we take every case very seriously." While the wrestling company's lawyers could not comment, both Vince McMahon and Triple H have sent out multiple Touts laughing uncontrollably for the entire duration of the videos.
Asked if he was going to watch a stream of Wrestlemania, DeAmonte simply replied, "Duh. I wouldn't miss it."