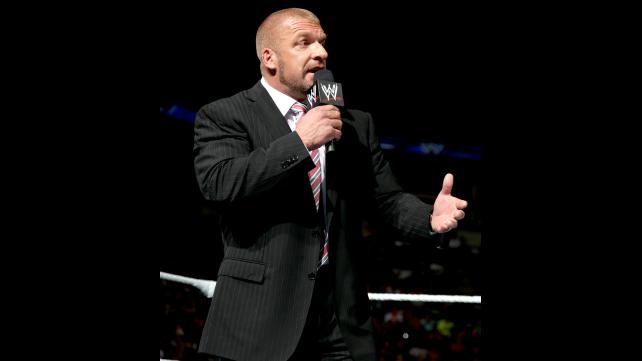 Buffalo, NY – In a surprising turn of events, WWE has decided that every match on their upcoming 'Battleground' pay-per-view will be canceled and replaced by a three-hour long promo by WWE COO Triple H.
Triple H dropped the bombshell news during an otherwise mundane press conference promoting the event. "We looked at the card and some serious consideration, the WWE has decided to scrap the entire thing," said Triple H. "Seriously, just listen to this lineup and see if you want to spend $50: Dolph Ziggler vs. Damien Sandow? Gross. AJ Lee vs. Brie Bella? Yuck. Curtis Axel vs. R-Truth for the Intercontinental Title? I had to ask three different people which one was the champion. With Hell In A Cell only a few weeks away, we might as well save the audience from boredom. It's better that I take the reigns with my patented promo magic."
"We need to give the people what they want and what they want is Triple H," said Stephanie McMahon. "The people want long-form promos and speeches to really lay out all the complicated things going on with the WWE right now. Triple H is the man to do it. He's won the WWE championship eight times, he's won multiple Slammys, and he's my little fuzzy wuzzy snuggle bear!"
When asked how he plans to fill three full hours just talking, Triple H said, "We've got this all planned out, just like Hogan-Warrior at Wrestlemania VI. We won't be improvising like Hogan-Warrior at Halloween Havoc. Or Warrior-Frenchie Martin. Or Warrior-Me. I'll start off working the crowd, telling them how it's great to be in Buffalo. I hope I don't laugh. Then I'll explain about how Randy Orton is good for business and Daniel Bryan isn't. Hopefully they'll chant 'Yes!' and 'No!' to kill time. I'll have to pace myself, so I'll take plenty of rests and spit lots of water. Eventually, Stephanie will join me to give me a break and maybe get some tea and lozenges. The King of Kings can't get a sore throat out there."
While WWE doesn't expect Battleground to do well, there are already plans to have Triple H give a 20 minute speech on RAW this Monday night.
"Gotta give the people what they want! Hunter by the barrel-full!" said a beaming Stephanie McMahon.