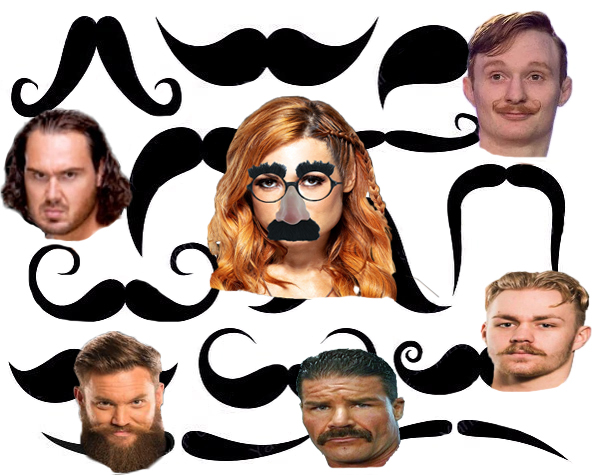 Former NXT competitor Eli Cottonwood has returned to the WWE to challenge Robert Roode for mustache supremacy.
Cottonwood, who competed on the second season of NXT, was mainly known for his height and his mustache. While not as thick and luscious as other mustaches in wrestling like Ox Baker's or Big Bully Busick's, Cottonwood's was good enough to earn itself a t-shirt before being eliminated. After a seven-year absence, Cottonwood returned on this week and set his sights squarely on Robert Roode's upper lip.
"A lot of people have been wondering where I've been," said Cottonwood to silence and confusion. "I've been grooming myself for my return. Trimming all the excess. Combing through all of Robert Roode's matches trying to pick out crumbs of information. Waxing nostalgic of my time in NXT, just waiting for one last ride!"
Roode, not intimidated by Cottonwood's hair follicle follies, retorted "Sorry, big man. From over here it looks like you've got a little dirt on your upper lip. If you want to go mano-a-mano with my soup strainer, you need it to be glorious!"
"Sorry to interrupt, gents, but I heard there was a brouhaha over boy bristles," said 205 Live's Jack Gallagher. "If you're going to lock up over who has a better lip layer, then it's only proper that Gentleman Jack has a lick at both of you."
"You three can't handle our handlebars!" said Trent Seven from the NXT tag team Mustache Mountain.
"We'll knock the flavor right out of your face furniture!" said his partner Tyler Bate.
"Is this match just for little boys or can The Man join too?" asked WWE Raw and Smackdown Women's Champion Becky Lynch, sporting a Groucho Marx fake nose/glasses/mustache toy.
All six jawed back and forth while stroking their nose neighbors until they were separated by security.
After the encounter, WWE CEO Vince McMahon announced that the "Hippie Lip Invitation Tournament" will be taking place on Smackdown. The finals will be held at Money In The Bank in a Beard Wax On A Ladder match.