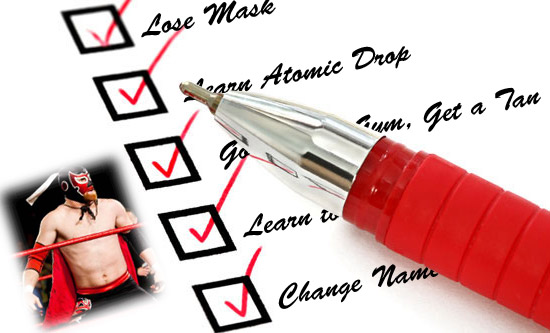 Stamford, CT – Following his signing with WWE, independent wrestling superstar El Generico will be repackaged with a new, exciting persona.
"El Generico as a character is just too boring for today's market," said WWE CEO Vince McMahon. "The WWE Universe will only get behind someone that they can believe in. They need something with more pizazz, something that will really reach out to everyone. Obviously, we will be removing his mask for starters.  It looks ridiculous and he's not Mexican. That may work on the indies, but this is the big leagues. He needs a face and a new name. Maybe 'Bryden' or 'Bryson' or 'Bryland'. Kids like the letter 'B' right? How about 'Chad Greg' or 'Greg Chad'" said Mr. McMahon before trailing off, deep in thought.
When asked how he would fair in the ring, Triple H said, "Well, I haven't actually seen him in the ring, but I read on the internet that a lot of people like him, which could be good or bad.  We'll see. I'm sure we'll have to reprogram him, though, so he can work the WWE style. Sure, he can go 30 minutes in a high-octane match with flips and psychology, but can he do a 10 second squash with The Great Khali? No one needs to see a shooting star plancha or spaceman moonsault when a simple clothesline will do. We're going to have him work with Randy Orton so he can learn how to really slow things down. Maybe throw in a few dropkicks if he wants to get fancy, but only if he follows it up with a chin lock."
Triple H thought for a few seconds before exclaiming, "I've got it! He can be 'Chad Greg: Master of The Atomic Drop'!"
Resigned to his new persona, El Generico said, "I'm just happy to be a part of the WWE. I hope to show off my years of hard work wrestling in gyms and VFW halls on the biggest stage in the world. If they want me to be the 'Chad Greg: Master of the Atomic Drop' then I'll be the best…" said El Generico before choking up and fighting back tears.
After regaining his composure, El Generico sighed and let out a soft "Ole!" before returning to his training: applying a wrist lock to a John Cena Wrestling Buddy.