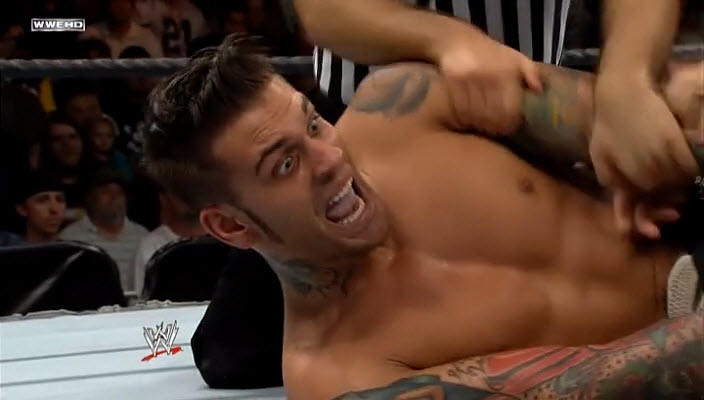 Winter Park, FL – Current NXT Superstar Corey Graves will be receiving the call up to the main WWE roster, making his debut this Sunday at the Payback pay-per-view in Chicago, Illinois.
While the main essence of Graves's NXT will remain the same, Triple H and WWE Creative has decided to make a few minor adjustments. The most noticeable is his name which is now CG Punk.
"Corey Graves has been great in NXT," said Triple H. "We love his attitude and aggresion. We just need to make some tweaks so he's ready for prime time. Little things like his name, biography, his finishing move, his entrance music, and his ring gear. You have to remember that what works in NXT doesn't necessarily work in the big arenas across the globe."
CG Punk, as he will now be known, we be billed as being from Chicago, Illinois instead of Pittsburgh, Pennsylvania. His new finishing move, a knee to the face" will now be the "Take A Nap" and his submission maneuver will be called the "Python Squeeze". CG Punk's entrance music will now be Living Colour's "Glamour Boys" and his ring gear will be similar to the star-motif of the Chicago flag.
"I think he's going to be a huge star," said Triple H. "No skinny-fatasses here. The Chicago crowd at Payback will love him."
To complete the transformation to a main event star, the former NXT champion has gotten several more tattoos, including the symbol of his favorite beverage, Dr. Pepper. His "Stay Down" knuckle tattoos have also been altered to now read "Pipe Bomb".
The newly-christened Punk has been preparing all week for his debut.
"I'm not nervous. I'm the greatest in the world!" shouted CG Punk, looking down at an index card with his new catchphrase.